CONSTRUCTION
The IHS Markit/CIPS UK construction PMI experienced a solid return to growth in February after a setback at the start of 2021. The total activity index rose from 49.2 in January to 53.3 in February. According to the latest survey:

Solid increase in overall construction output as project starts increased in anticipation of improving UK economic conditions in 2021
Slight slowdown in house building was more than offset by the sharpest rise in commercial work since last September and a slower fall in civil engineering activity
New orders increased for the ninth consecutive month, amid improving demand for residential development, commercial and public sector infrastructure
Rate of job creation was the fastest since March 2019 as business optimism hit a five-year high
Average cost burdens across the sector rose the most since August 2008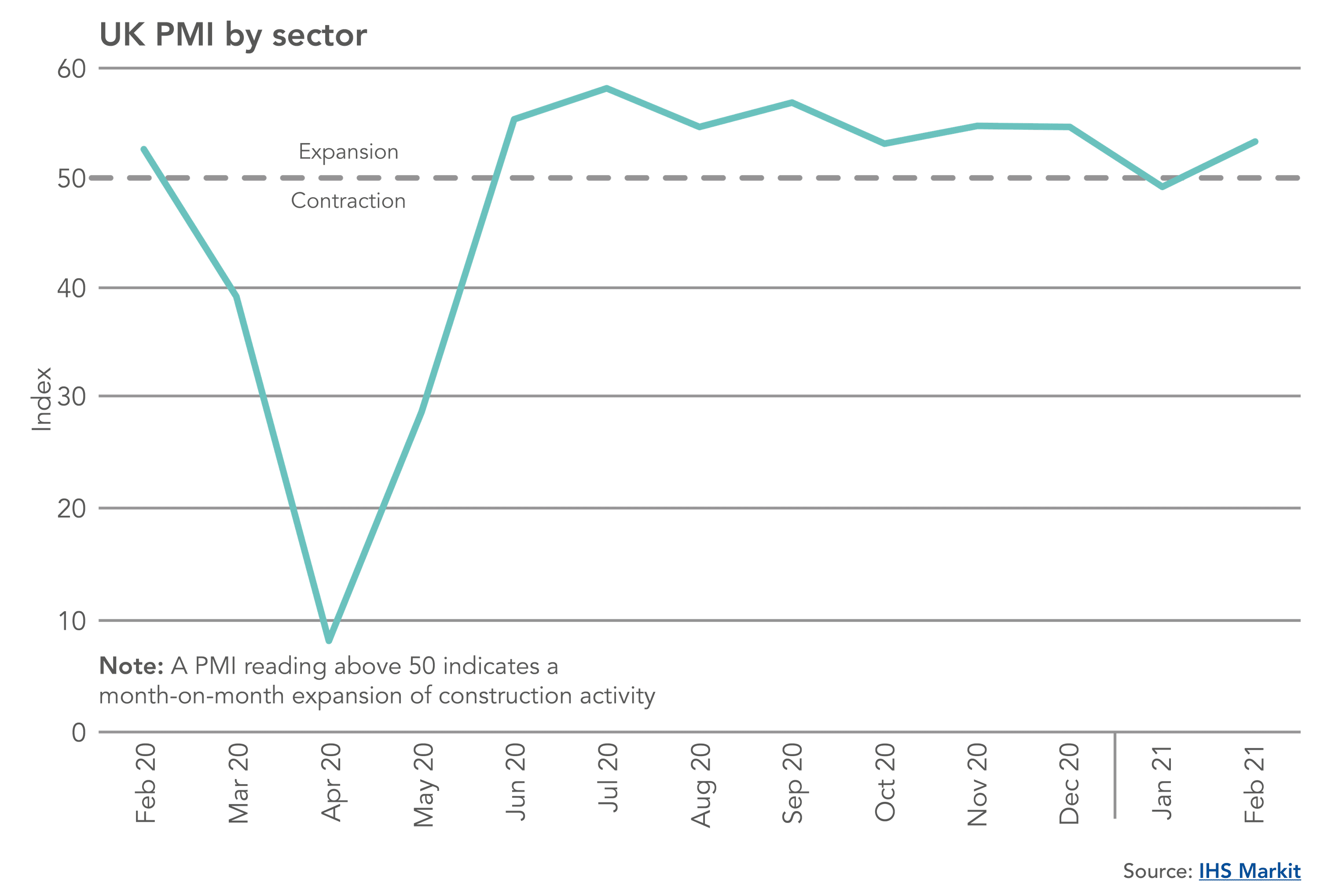 The Construction Leadership Council (CLC) plans to publish performance data showing the construction industry's progress towards achieving net zero carbon emissions. The industry-wide initiative, dubbed 'C02nstruct Zero', calls on firms to share quarterly data with the Government and the public alike. According to the CLC, the aim of the campaign is to, "drive carbon out of all parts of the construction sector, from manufacturing and design to construction and operation of assets". The initiative will also act as a focal point of engagement for the industry with the Government ahead of the UN climate change conference (COP26) later this year in Glasgow.
In his 2021 Budget, Chancellor Rishi Sunak made some key policy announcements which will impact the UK construction sector. In addition to the extension of the Job Retention Scheme, some of the headline commitments included:

UK Infrastructure Bank (with £12bn of funds) to be established in Leeds to accelerate progress to net-zero and "level up" the UK
Extension and doubling of payments given to businesses hiring apprentices
Extension of Stamp Duty holiday to the end of June 2021
A new 'Help to Grow' scheme giving SMEs "world-class" management training, free online technology advice and 50% discounts on new productivity-enhancing software
A new green savings bond will give people across the UK the opportunity to contribute to the collective effort to tackle climate change
Over £1bn announced for 45 new towns deals
Creation of eight new Freeports where businesses will benefit from increased rates of tax relief through capital allowances as well as stamp duty and business rates relief (see here for further details)
R&D support for companies investing in qualifying new plant and machinery assets and developers of new solutions that cut carbon emissions (eg floating offshore wind technology)
Ministry of Housing, Communities and Local Government (MHCLG) to establish an MMC Taskforce, backed by £10m of seed funding

A recent 'State of Trade' survey by the Federation of Master Builders (FMB) revealed that the number of construction SMEs that reported shrinking workloads increased in Q4 2020. Over a quarter (27%) of respondents said that workloads shrunk in the fourth quarter – up from 21% in Q3 2020. However, the majority of respondents (42%) reported no change in workloads whilst 31% said that their workload had increased in Q4. Material price hikes continued to impact the majority (82%) of SMEs but despite the higher costs only 29% of respondents said that they were increasing prices they charge for work, indicating that smaller firms were absorbing the cost increases.
A G&T benchmarking exercise looking at the secured project pipeline across some of the UK's biggest main contractors reaffirmed our view that a number of quality projects are coming to market, indicating a fairly healthy pipeline of opportunities in 2021 and beyond. On average, surveyed main contractors had secured 87% of their project pipeline for 2021, 56% for 2022 and 28% for 2023. Included in the figures were projects on which contractors had secured a formal PCSA or had been given preferred bidder status. However, some noted a number of schemes were currently 'on hold' which, if progressed, would boost their pipelines significantly. Additional feedback from the exercise revealed:

Most MCs said that their project pipeline was where they expected it to be at this point in the year
MCs are being selective in the projects/clients they are tendering for, anticipating that more schemes will come to market in Q3/Q4 2021
Certain sectors (eg residential and healthcare) are driving pipeline growth as are schemes in big cities (eg London, Manchester and Leeds in particular)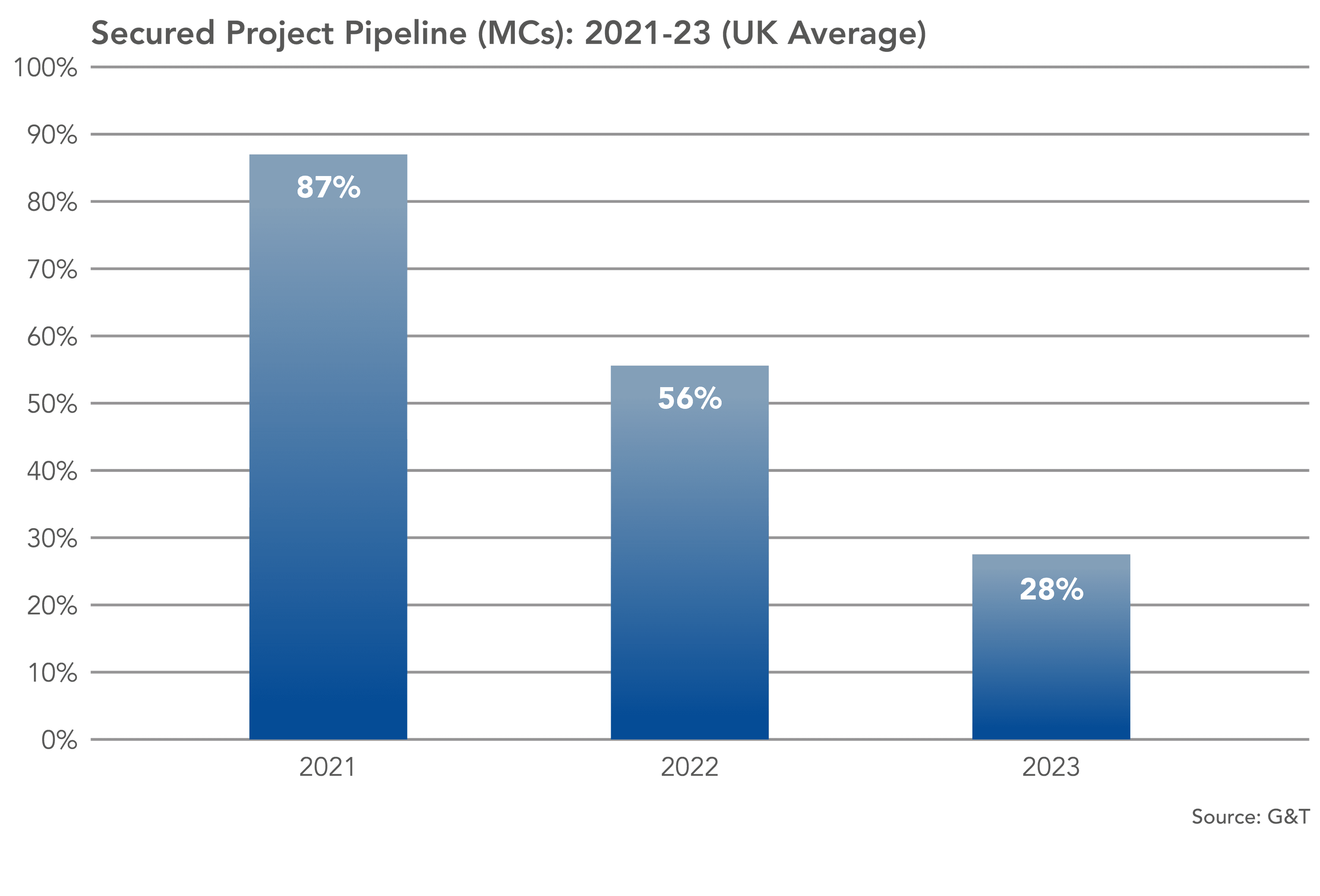 ---
CONTRACTOR NEWS
British Land has been given the green light for a new 38-storey tower development in Broadgate. The tower at 2 Finsbury Avenue, which is the third tower approved by the City of London in less than a month, will feature over 85,000m² of office space along with retail and restaurants. The taller East tower will be linked to a smaller 23-storey West tower by a 13-storey podium which will include green space and communal areas. The new proposals incorporate a best practice approach to sustainability, workplace design and inclusion. G&T is providing Project Management services on the scheme.
Balfour Beatty posted a 62% fall in pre-tax profit for the year to 31st December 2020 in its latest financial results. Profit fell from £138m in 2019 to £48m in 2020 despite revenues rising by 2% to £8,593m in the year. UK Construction recorded a £26m loss for the year as site closures, lower productivity, additional operating costs and lengthening site programmes all had an impact. However, the contractor noted that its UK construction order book had doubled during the year. The UK construction order book stood at £6.4bn at the start of the year (up from £3.0bn), thanks largely to HS2 giving Balfour Beatty its biggest ever contract, building the northern section of phase one in joint venture with Vinci as well as the London station at Old Oak Common.
Construction firms have been put on notice to register interest for a £1.6bn modular construction framework that is being procured by NHS Shared Business Services. The framework is set to run for four years and will cover permanent and temporary modular buildings and components. It will be broken down into eight lots, split up based on both the end use and permanency of the structure. All firms would be required to offer turnkey solutions including feasibility studies, planning applications, full architectural design, enabling works, site works, landscaping and soft landings.
---
MATERIALS & COMMODITIES
A survey from the Timber Trade Federation (TTF) has found that timber firms are experiencing difficulties with logistics amid record demand. Respondents noted that a lack of haulage vehicles, inflated costs and additional administrative post-Brexit trade requirements were slowing down trade among UK timber firms. Also noted was the fact that some European companies are unwilling or unable to share details of supply chains to help TTF members complete the necessary due diligence under UK timber regulations. Aside from constrained supply and logistics issues, further challenges loom with the six-month grace period for importing EU goods into the UK coming to an end on 1st July and when UK Conformity Assessed (UKCA) marking – a new UK product marking replacing CE marking – is required from 1st January 2022.
Brick maker Ibstock said that brick demand fell to just 10% of pre-Covid levels in April 2020. However, from that low point demand steadily recovered and Ibstock's revenues from brick sales rose to around 85% of 2019 levels by the end of 2020. Revenue from its brick division, Ibstock Clay, was down 29% in 2020 at £213m (2019: £300m) but sales volumes so far in 2021 are ahead of the run rates achieved at the end of 2020. Ibstock's concrete revenues only fell 5% in 2020 as they had greater exposure to the domestic repair, maintenance and improvement market, which broadly held up in 2020.
---
UK ECONOMY
Bank of England Governor Andrew Bailey has highlighted concerns about post-pandemic inflation risk. Financial market expectations for future inflation and interest rates have risen sharply following a vaccine-fuelled improvement in the economic outlook. However, the risks are now "increasingly two-sided" according to Bailey, who suggested that a stronger recovery would not necessarily lead to inflation because the longer-term outlook for prices depended on the balance between demand and supply – both of which are highly uncertain. Regardless, in the short term the BoE's focus is on raising the inflation rate towards the 2% target.
EU-UK trade fell sharply at the start of 2021 according to recent French customs data. French exports to the UK were down 13% in January compared with the average of the previous six months, while French imports from the UK fell 20%. Similar declines in trade have been recorded between the UK and other large EU countries. Despite the trade deal, frictional barriers and uncertainty created by Brexit have dealt a blow to commercial activity between the UK and the EU. Higher shipping costs, transportation delays, health certificate requirements and more complex customs requirements at the border have impacted trade volumes.
---
GLOBAL ECONOMY
Joe Biden's $1.9tn US stimulus programme will boost the economic recovery from the coronavirus pandemic around the world, according to the OECD. The organisation upgraded its global growth forecast, suggesting that the scale of the Biden plan will add about one percentage point to global economic growth in 2021. This, along with the rapid rollout of COVID-19 vaccination programmes in many countries, prompted the OECD to upgrade its 2021 growth forecast for the global economy to 5.6% - 1.4% higher than its December 2020 forecast.
European manufacturing bounced back strongly in February according to recent PMI figures published by IHS Markit. Factories in Italy, Spain and Germany ramped up production to meet rising demand which helped the pan-eurozone manufacturing PMI to hit a three-year high of 57.9, up from 54.8 in the previous month. Manufacturing is driving growth whilst other sectors are burdened with regulations, creating a two-speed economic recovery in Europe. However, the increase in industrial activity (a result of resurgent demand for goods) is putting pressure on supply chains and lengthening delivery times.