What is Co-working?
Co-working spaces, simply put, are shared workplaces. Co-working is a concept whereby those who are self-employed or working for different employers rent out space in the form of seats, desks or private offices from operators, typically on a monthly basis.
The concept, which started in 2005 in San Francisco, has seen an unprecedented rise in demand in recent years. Often referred to as flexible office space, the surge in demand has been driven by a variety of factors, outlined in the section 'Why has this developed?' below.
Whilst there are various co-working business models, these shared workspaces typically offer a suite of office-like amenities such as hot-desks, private meeting rooms, kitchens, coffee points and a range of other facilities. Often, they also offer a flexible, open-source community approach to work where collaboration and networking are encouraged.
Occupants of co-working space have typically been freelancers, start-ups and small and medium enterprises (SMEs) who want to take advantage of a flexible space, renting out only what they need. Increasingly, however, more established companies are integrating co-working spaces into their workplace strategy instead of taking space on a traditional lease.
Why has this developed?
Globally, it is estimated that by 2020, 1.55 billion workers will be in roles that do not confine them to a desk. Non-standard forms of employment are becoming more commonplace, with more professionals working in casualised, project-based freelance roles. For these people, co-working allows occupiers to share a workspace in an environment geared towards open collaboration.
Changes to working models and practices have been a major reason behind the growth in co-working spaces. PeoplePerHour predict that by 2020, 50% of the UK workforce will be self-employed.
In the UK, self-employment has reportedly grown in recent years. ONS figures indicate that the number of self-employed increased from 3.3 million people (12% of the labour force) in 2001 to 4.8 million (15.1% of the labour force) in 2017. This growing segment is likely to continue to fuel demand for flexible work environments.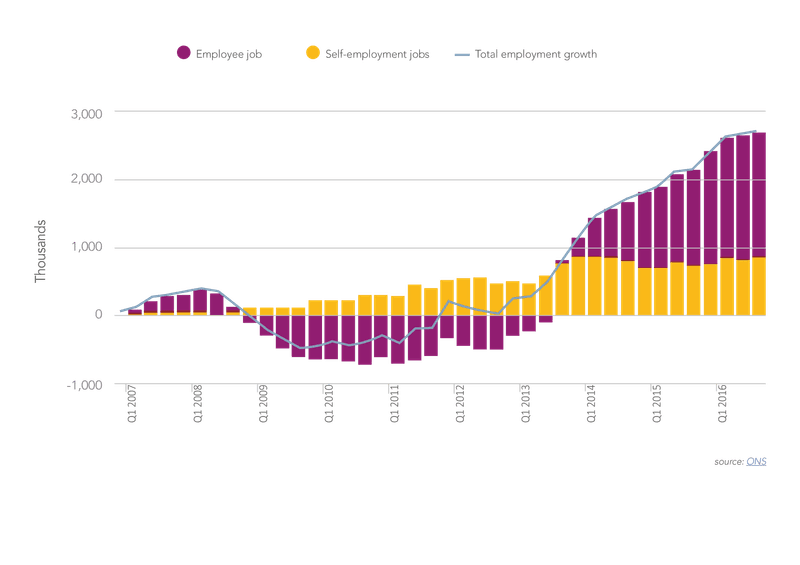 In the UK, a rise in the number of start-ups and SMEs have also contributed towards greater demand for co-working space. In the City of London alone, the number of SMEs has increased by 41% since 2010.

Companies are increasingly seeking to enhance their workplace experience, primarily to attract and retain talent. Co-working appears to be a big draw to millennial talent that prefer to work in communities of like-minded people.
In a study reported in Harvard Business Review, researchers found that users of co-working spaces experienced greater meaning from their work, and reported higher levels of 'thriving' at work than their office based colleagues. Additionally, with many choosing to work from co-working spaces closer to home, there is a positive knock-on effect as commuting times and traffic congestion are reduced.
For small start-ups, with uncertain growth prospects, co-working provides a way to quickly adapt to the changing number of employees. Long leases and large overheads carry a high cost risk for small businesses. Even larger businesses are starting to see the advantage of avoiding long-term space commitments in a volatile economic climate. With Brexit uncertainty weighing heavily on the minds of companies, the attraction of short leases on their respective balance sheets may prove very attractive.
Growth is also being driven by changes to working practices and team structures. As agile working practices become more widespread, co-working spaces will continue to be set-up to cater for such agility and connectivity requirements.
If you would like to read more on Co-working, click here to download the full report.

If you have any questions regarding the content of this article, please contact Michael Urie or Nick Rowe in the first instance.