UK economic growth picked up in the third quarter of 2018, with GDP seeing quarter on quarter growth of 0.6% (Q2 2018 Q-on-Q growth was 0.4%). However monthly GDP data indicates that economic growth in the last quarter of 2018 is set to slow.
A slowing global economy, ongoing US-China trade tensions and Brexit has meant that uncertainty persists in abundance. UK GDP slowed to 0.3% in the three months to November 2018 driven by weak manufacturing output and consumer demand. The construction and services sectors were the main drivers of GDP growth in the three months to November 2018. In fact, GDP from construction in the UK increased from £27.9bn in Q2 2018 to £28.6bn in Q3 2018 – an all-time high.
The Consumer Prices Index (CPI) 12-month inflation rate was 2.1% in December 2018, down from 2.3% in November 2018. Falling fuel prices contributed a 0.14 percentage point drop in the 12-month rate. Inflation in 2019 is forecast to fall below the Bank of England's 2% target, improving household purchasing power.
CONSTRUCTION OUTPUT
Construction output recorded an an all-time high in November 2018, with the total value of construction output exceeding £14bn for the first time since records began in 2010. The ONS' seasonally adjusted output figures show that in the year to November 2018 infrastructure and private new housing performed strongly, growing 11.2% and 9.5% respectively. At the opposite end of the scale private housing repair and maintenance was the worst performing sector, decreasing by -8.2% year on year.
Although picking up slightly towards the end of 2018, private commercial new work output continues its overall downward trend. Brexit had a particularly negative impact on the UK offices sector as investors consider the current levels of economic uncertainty are too high to justify the long-term investment in new space.
G&T expects construction output to be maintained next year but this will be heavily dependent on regional private house building and major infrastructure projects offsetting falls in sectors such as private commercial.
REGIONAL BREAKDOWN OF CONSTRUCTION OUTPUT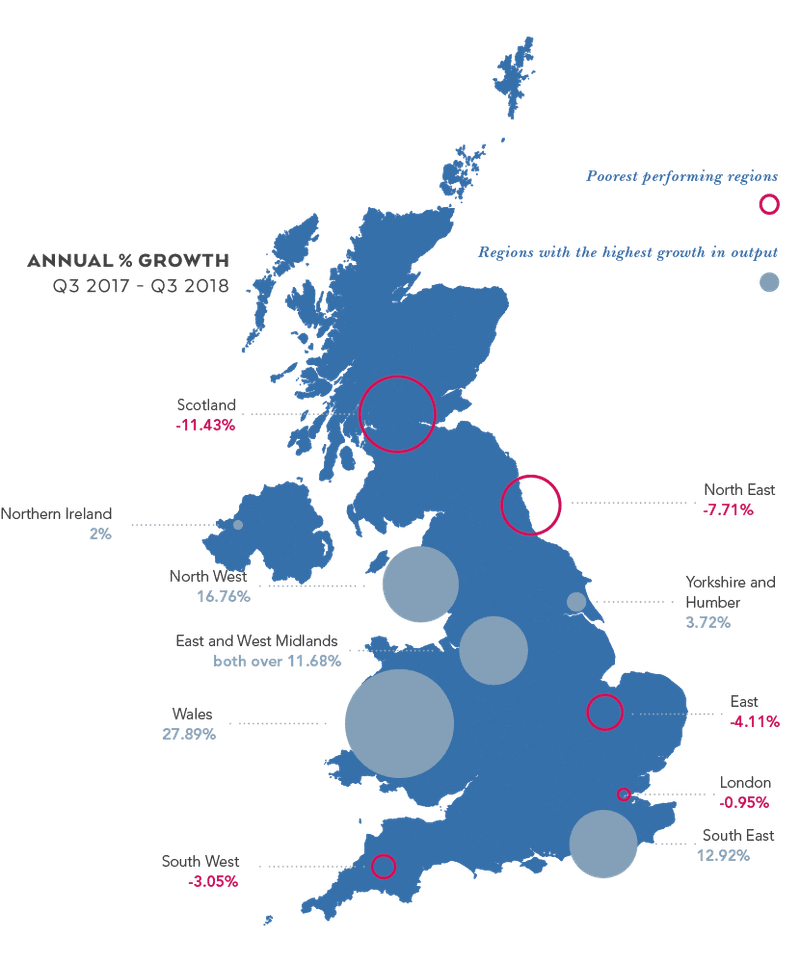 NEW ORDERS
For the first time in a year new orders saw positive growth, rising by 3.4% in Q3 2018 from the previous quarter to £11.075bn. New orders for public non-residential work (excluding infrastructure) saw the strongest quarterly growth, rising by 32% in Q3.
However, total new orders for all new work over the last 12 months (Q3 2017-Q3 2018) are down substantially by -30.7%. Brexit uncertainty has clearly impacted UK companies' willingness to commit to new projects in sectors dependent on high upfront investment for a long-term rate of return. This will translate to lower output in commercial offices and prime residential.
MARKET CONDITIONS
Construction market conditions appear to be stable and fairly balanced. Whilst lower value/ low risk contracts are still being competitively tendered due to an abundance of contractors at this level, higher value contracts with higher risk are seeing less competitive tendering as there are only a limited number of contractors with adequate capacity.
In current market conditions, OH&P and preliminaries are unlikely to increase over the course of the next 12 months. Contractors will be keen to win work and fill their order books in order to secure turnover.
Whilst some contractors are bullish saying that Brexit will have little impact, we have noticed that many are still cautious about committing to fixed price contracts and opportunities are taking longer to convert, whilst a steady flow of new enquiries continue, we expect overall workload in 2019 to be more or less static, with any new work taking capacity of completed projects.