In April, G&T hosted the New London Architecture (NLA) NextGen Working Group, as part of the NLA's NextGen programme. The programme seeks to bring together young professionals and established construction industry experts to explore and discuss some of the critical issues being faced in the industry.
The discussion saw attendees split up into four groups, with each group allocated a relevant and timely topic to debate and exchange ideas on. One of the topics being dissected during the session was 'Big data and smart technology'.
Particular questions being asked were, 'how important is big data and smart technology to the next generation?' and, 'how can we harness big data and smart technology to innovate within the construction industry?'.
Big Data and Smart Technology:
Construction has entered the big data era. Whether being collected through Building Information Modelling (BIM) or through devices and sensors on site or in smart buildings, a large amount of data is being generated and accumulated by the industry.
The effective use of 'Big Data' – defined as large volumes of structured and unstructured data sets that can be analysed computationally to reveal patterns, trends and associations – has the capability to transform the industry. Data-driven decision making will allow the industry to better predict outcomes and react quickly to emerging trends, allowing it to stay competitive. The data can also be used to develop valuable applications for improving the overall building delivery process.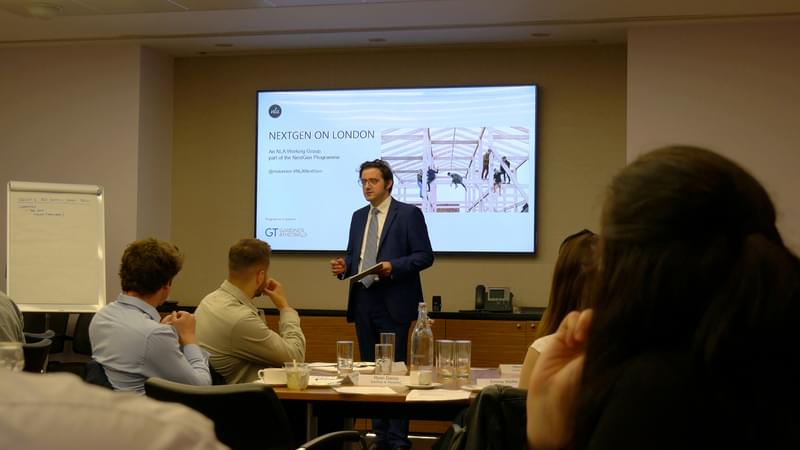 The group addressed the link between Big Data and the 'just-in-time' delivery model used in construction. Getting the right items in the right amounts to the right places at the right time is an extremely complicated process. Participants made remarks about the importance of gathering and analysing Big Data and the positive impact it can have in producing accurate demand analysis and forecasting, thereby optimising the supply chain processes.
They also discussed the cost-reducing potential that data generated from BIM can have, noting its potential to improve our understanding of a project, reduce errors, project delivery time and increase profits. The Government's Level 2 BIM mandate came into force in 2016, requiring that for all public contracts there is collaborative working between parties using 3D CAD models. Under the mandate, each party works from individual models which combine with external data from other parties to create a "federated" BIM model. With all project, asset information, documentation and data required to be electronic, the volume of accessible information will continue to grow.
So what is this data being used for, exactly?
The group believed that there was an educational awareness issue, noting that it wasn't entirely clear how construction and building data was being utilised. When it comes to data generated by smart buildings, it's fairly clear that the data is primarily being used to provide actionable insights about the different aspects of the building's performance, allowing users to better control their interactions with the building i.e. maximising comfort and minimising energy use. However, the majority of this data remains untapped and is often discarded.
"Big data is such a commodity now with so much of it being gathered...how can we make that data more available so it can be more beneficial to everybody?"
The group agreed the use of data poses a trust issue but concluded that transparent and ethical use of the data is acceptable and would ultimately pay for itself. It was also suggested that offering up building performance data to the wider community has the potential to enrich us all in terms of improved fuel efficiency and reduced consumption for example. To this end, the efficient analysis of Big Data is of immense importance in optimising a buildings performance via predictive analytics.
On site, captured construction data can help contractors and construction managers to better monitor production and stick to schedules. With the harnessed data it's possible to predict future outcomes on projects and which will be the most profitable, giving firms a competitive advantage when estimating and bidding. However, this is highly dependent on getting the right systems and software solutions in place to mine and analyse the data.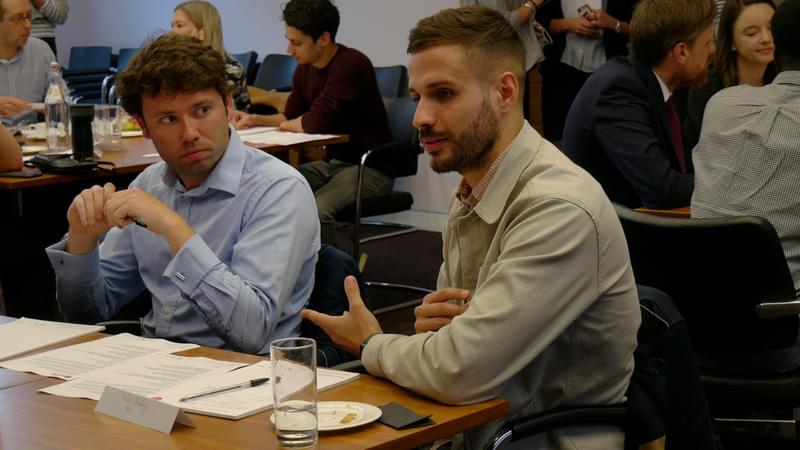 Data ownership and quality
Questions were raised concerning ownership of the data being generated by smart buildings and on construction sites. Up to this point, much of the data has been effectively siloed – held in isolation by the company generating and collecting it. Whilst this is useful for their own data analytics, it doesn't help to improve efficiencies and reduce costs at scale.
Construction and demolition waste (CDW) is one of the heaviest and most voluminous waste streams generated in the EU. It accounts for approximately 25-30% of all waste generated in the EU and consists of numerous recyclable materials[1]. Sharing the data that is being generated will go a long way to increase efficiency and reduce unnecessary waste.
Another concern was about the quality of the data being collected. Null or misleading values, outliers and non-standardised values are just some common traits of industry data. To produce high-value, actionable insights, the data collected needs to be clean and of high-quality. Otherwise the insights generated run the risk of misleading the industry and ultimately costing stakeholders more in the long-run.
Transforming Big Data into intelligence
The discussion then moved on to how the industry can maximise the value of Big Data. The construction industry already deals with large volumes of data and this is expected to grow exponentially as technologies such as sensor networks and the Internet of Things (IoT) are commoditised. But the accumulation of large volumes of data will not be enough. To extract the full value from Big Data, a number of hurdles have to be scaled. In order to justify the time and expense required to implement Big Data analytics solutions, there has to be a strong and clear case for its use.
"It's algorithms, it's big computers that make decisions on what food they put in the canteen to the productivity that people get out of an office space"
Every technology incurs set-up costs and ongoing overheads and this has to be considered against a low-margin backdrop in construction. However, based purely on the success that other industries have experienced from wielding Big Data, there could be a huge revenue incentive, particularly when combined with other emerging technologies such as BIM, smart buildings, IoT and augmented reality.
Data has often been described as gold, yet so much of it in construction goes unused or is thrown away, rather than used to gain a deeper understanding of how it can be applied to improve efficiencies and increase profit. Fortunately, many in the industry would now agree that a tech-led business that utilises Big Data will put them ahead of the curve.
Group Participants:
Ryan Dacey, M&E Cost Consultant, G&T
Alex Hammerton, Associate Project Manager, AECOM
Paul Bailey, Architect, BDP
Emma Weller, Mechanical Engineer, Elementa Consulting
Table Mentor Rikesh Shah, Head of Commercial Innovation, Transport for London
Hear the NextGen perspectives on big data and smart technology in our new film
Look out for our next article 'Talent Post-Brexit' coming soon!
This topic and many more will be discussed in further detail at the London Real Estate Forum 2019, where G&T will sponsor the NextGen initiative for the fifth year running. Find out about last year's event in our film and article.