Climate change is the most pressing environmental challenge of our time. The scientific evidence suggests that we need to take action now and the UK Government is making this a priority. In June 2019 the UK became the first major global economy to pass a law that requires the country to achieve 'net zero' greenhouse gas (GHG) emissions by 2050.
Transport has a significant role to play in reaching net zero. The scale of the challenge demands a step change in thinking and a need to act quickly and decisively to reduce emissions.
The UK Government has shown its commitment to investment in green technologies and green travel by introducing a number of incentives, penalties and tax benefits to individuals and corporations.
The race is now on to find better alternatives to the petrol burning internal combustion engine (ICE) and there are a number of alternatives being developed including alternative fuels and electric vehicles (EVs). With EVs being less complex to manufacture and incurring lower running costs for the consumer, it makes them the current favoured technology for mass adoption. As a global centre for world leading science, technology, business and innovation, the UK is well placed to seize the economic opportunities that being in the frontline of this emerging market will present. It seems that now might be the time for investors to consider the merits of going green.
This is the first in a series of articles where we will look in detail at the electric vehicle market and how it is playing a part in decarbonising transport, drawing upon our extensive experience in three key sectors:
Infrastructure development and delivery including utilities
Facilities for R&D and manufacture including automotive and batteries
Facilities for product placement and brand experience
Electric Vehicles - Market Overview
Introduction
The stage is set for EVs to form a significant part of the solution to decarbonising transport. No longer seen as a fringe technology or niche product, 2020 is set to be the year of the EV according to industry analysts. The increased public focus on climate change, shifting environmental regulations and technological advances are making the case for a green-mobility transition and thus for EVs.
The UK is among Europe's largest markets for EV sales. Hybrid and plug-in EVs are tipped to account for over 10% of car registrations in the UK in 2020. To cater for this rapidly expanding market, manufacturers are having to adapt their space, governments and the private sector are having to install the necessary charging infrastructure and dealerships are having to re-think their sales and servicing models.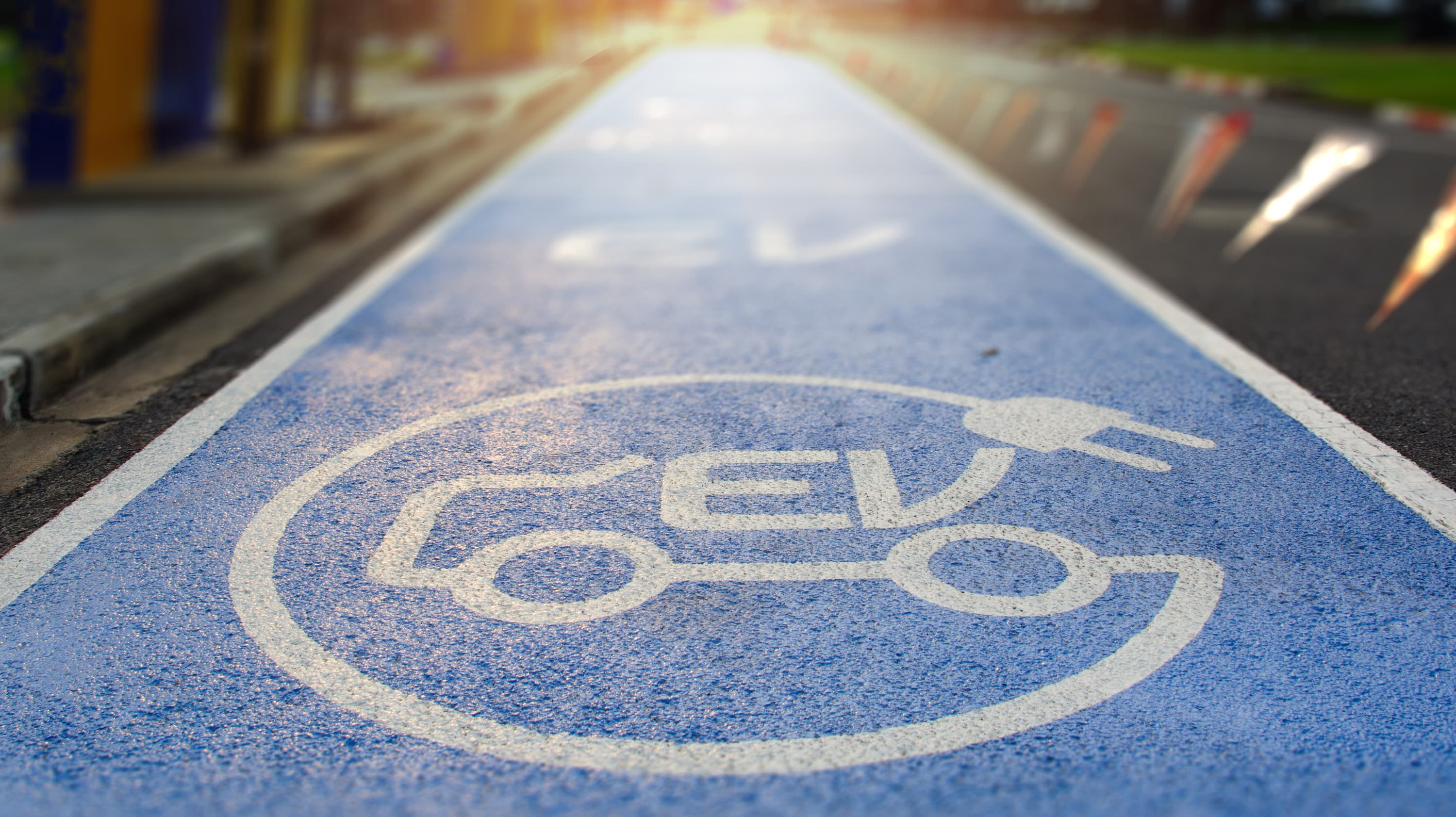 ---
Growth of the electric vehicle market
There are currently more than 136,600 pure-electric cars on UK roads. The electric vehicle market is growing due to the UK Government's initiative to ban the sale of new petrol, diesel or hybrid cars in the UK by 2035. Projections recently published by National Grid suggest that this number could reach a high of 10.6 million by 2030, rising to 36 million by 2040 [1].
As of July 2020, battery electric vehicles (BEVs) had a 4.7% market share (39,119 cars) in the UK, whilst plug-in hybrids accounted for 3.3% (26,955 cars) of all models sold. Combining the two gives a total EV sales volume of 15,609 in July, representing 9% of all UK passenger auto registrations for the month. This is up significantly from the same month a year earlier where the EV plug-in electric vehicle market share was just 2.5%.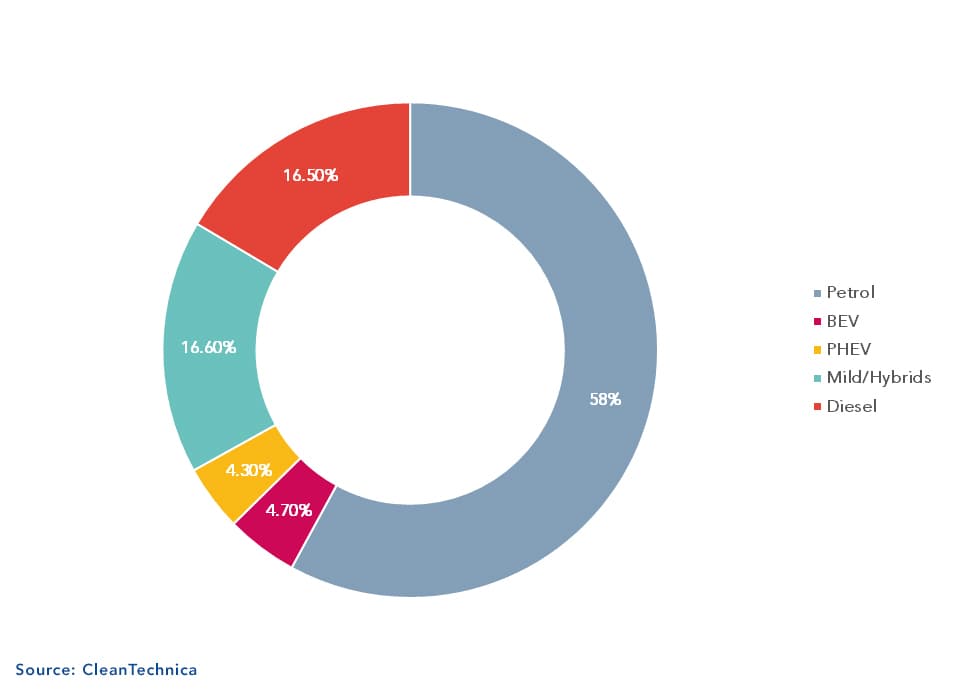 In July, the year-to-date cumulative share for passenger EVs stood at 8% - up strongly from the 2.2% share over the same period in 2019. The cumulative share is only expected to grow as evidenced by recent research from Deloitte[2], which found that 50% of UK consumers would consider an EV as their next purchase, despite some lingering concerns about the lack of charging infrastructure.
---
Enablers to Future Growth
Amongst the main issues cited as barriers to mass adoption are vehicle range, charging duration and availability of charging facilities. Advances in battery technology have significantly improved the range possible, for example a 40 kWh Nissan Leaf can cover 168 miles per full charge.
Charge times are dependent on a number of factors including type of charge point and battery capacity and can range between less than an hour to a whole day. As technology and availability of fast charging facilities improve, this will decrease.
Convenient charging solutions will be required to achieve mass uptake. The need for 'home and away' charging will form the most important requirement in the near future and quick, comprehensive, publically available charging networks will be key to securing this. The consumer will require choice in terms of cost, speed and location. For many, public charging will be the only option as they will not have access to charging at their home or place of work.
The existing UK fleet of EVs is currently supported by over 32,500 publically available charging points[3]. This means that each EV enjoys a ration of approximately 4 EVs per charge point location. If the growth predictions are accurate, and due to rise to 10m by 2030 and the ratio needing to be maintained, then as many as 2.5m charge points could be required by 2030. It is clear that if the UK Government's targets are to be met and we are to successfully transition from ICEs to BEVs, a key challenge will be the large scale delivery of supporting charging infrastructure across the country.
---
Government Policy and Support
A favourable regulatory environment will be key in driving EV growth. The UK Government sees EVs as an essential tool for reducing air pollution and meeting its ambitious carbon emissions targets and this has been the primary driver of government policy. However, the Government is also acutely aware of the economic benefits that can be realised by supporting EV growth and hence why it has introduced a range financial incentives as well as policy and regulatory changes to support the transition to electric and encourage EV adoption.
Many governments (including the UK) have offered financial incentives such as cash subsidies and reduced taxes on EVs. Some have even introduced additional incentives in light of COVID-19 to stimulate new car purchases. Germany, for example, recently lowered VAT from 19% to 16% on low-emission vehicles and doubled existing subsidies from €3,000 to €6,000 on EVs costing less than €40,000[4]. France has also upped its EV cash incentive whilst China has extended its EV subsidy and tax break policies which were set to expire this year by two years to 2022.
Other governments are encouraging EV growth by introducing restrictions, bans or punitive taxes on users of older ICE vehicles in major towns and cities. In the UK, several cities have brought forward plans to introduce zero/low-emission zones in response to concerns about toxic air pollution. Governments are also phasing in CO2 emissions standards and targets that will help persuade manufactures to favour the production and sale of EVs. The UK has committed to a target of net zero emissions by 2050 and proposed a ban on the sale of all polluting vehicles by 2035. In Europe, new mandatory emission reduction targets for new cars will be implemented in 2021[5], bringing penalties to manufacturers who exceed the target. Measures like this, which have been taken to address the air pollution crisis, will inevitably shape Original Equipment Manufacturer (OEM) strategy and benefit EV sales growth.
The UK Government has introduced a number of incentives, penalties and tax benefits to encourage people to choose greener forms of travel. These include:
£10m committed to the On-street Residential Chargepoint Scheme for 2020/21, allowing Local Authorities (LAs) to install up to 7,200 charging devices into the on-street environment
An additional £500m commitment for EV charging infrastructure under the Government's Rapid Charging Fund on top of the new £400m Charging Infrastructure Investment Fund (CIIF) and the £80 million dedicated to EV charging as part of the Road to Zero strategy's £290 million budget
Provision of the Plug-In grant scheme with buyers of qualifying EVs receiving up to £3,000 of the purchase price of the car
Tax benefits and charge discounts (eg an exemption from VED, the London congestion charge and a 100% write down of the EV purchase price against corporate tax liability)
Electric Vehicle Homecharge Scheme (EVHS) and Workplace Charger Grant allowing savings of 75% (max £350) on the purchase and installation of an EV charger for homes or workplaces
It is evident that the Government is committed to invest in green technologies. However, when compared to countries such as Norway, the UK Government's electrification strategy isn't particularly comprehensive or joined-up. Parallels can be drawn with early broadband in the UK where it was left to the market to figure out how and where to roll out full-fibre networks. Because private sector companies will always choose to install infrastructure in the most economically favourable locations, this has resulted in an uneven distribution of infrastructure.
LAs have access to competitively awarded central government funds for installing charging infrastructure. However, many LAs lack the in-house knowledge, skills or time to apply for these schemes and some (such as the On-Street Residential Charge Point Scheme or 'ORCS') provide only a portion of the support needed, leaving councils without the funds to support and maintain the infrastructure over time or to upgrade it when new technology becomes available. As a result, there are significant interregional inequalities when it comes to the provision of EV charging infrastructure across the UK.
To help combat this, the Rapid Charging Fund will enable the roll-out of 2,500 high-powered electric charge points (or HPCs) across England's motorways and A-roads by 2030, rising to 6,000 by 2035 (the year the Government is consulting on to ban the sales of new ICE vehicles). The roll-out, according to the Department for Transport (DfT), aims to "meet the long-term consumer demand for electric vehicle charge points ahead of need"[6]. England currently has in excess of 800 open-access 50KW EV chargers on motorways and A-roads (an average of two per motorway service station), but the Government's target is to have at least six high-powered (ie 150-350KW-capable) charge points at each motorway service station by 2023, with as many as 10 to 12 at some larger stations.
The Rapid Charging Fund is expected to cover a portion of the costs for installing HPCs at strategic sites across England's road network where upgrading connections is considered to be "prohibitively expensive and uncommercial". EV charging operators such as REA said that the setting of specific targets for the charging network by the Government was an encouraging sign of commitment which is likely to give confidence to investors, fleets and individual drivers alike.
A recent DfT survey[7] found that charging infrastructure was cited as the biggest perceived disadvantage to EVs. Nearly four in 10 (38%) said that recharging (ie where/how to charge) was a perceived disadvantage whilst three in 10 (30%) said that the scarcity of charging points was a disadvantage. When grouped together, 54% of respondents mentioned recharging concerns (this included 'where/how to charge', 'not enough charging points' and 'time taken to recharge').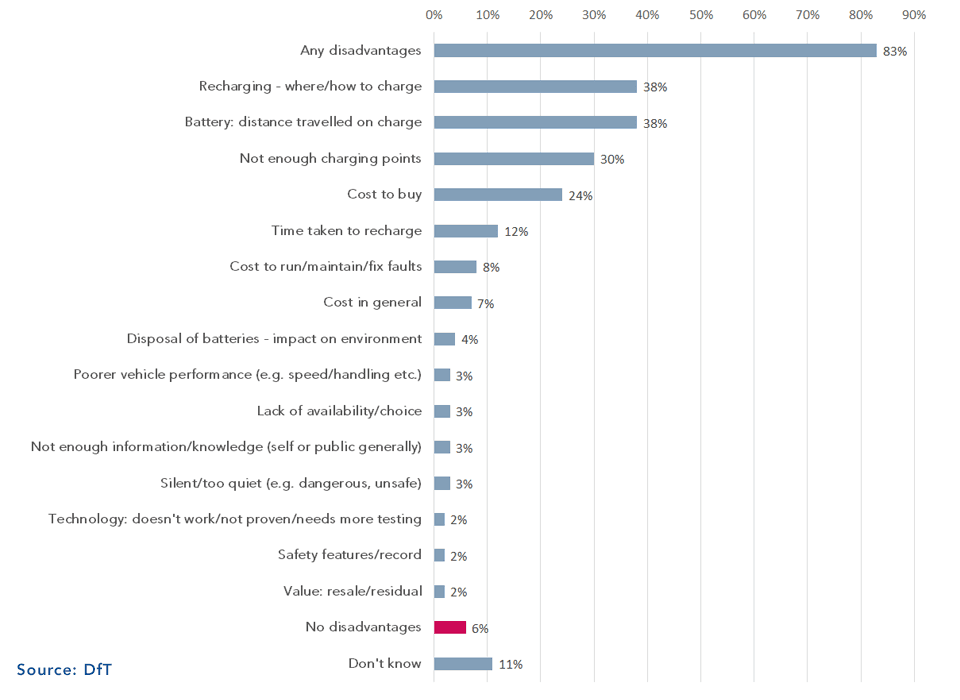 Some of these concerns about the UK's charging infrastructure will be allayed by the fact that investors appear to be lining up to fund the roll-out of charging networks using CIIF – a £400m investment fund where £200m raised from the private sector will be matched by £200m of public money to help roll-out publicly accessible charge points. A key policy objective of CIIF is to enable faster expansion of public EV charging networks by investing in all elements of the infrastructure, including charge point equipment and grid enhancements. By working in partnership with industry, the CIIF model will hopefully enable a faster roll-out of a robust and diversified public EV charging infrastructure to meet society's future needs.
---
The Delivery Challenge
The ambition to decarbonise transport is clear, the targets are set and technology has advanced to provide solutions. Industry now needs to respond without delay to meet the associated deadlines and success will depend on a series of sectors delivering the required infrastructure, manufacturing, retail and distribution capacity.
G&T has extensive experience in three key sectors which we are focusing on to support this critical challenge:
Infrastructure development and delivery including utilities
Facilities for R&D and manufacture including automotive and batteries
Facilities for product placement and brand experience
Our objective is to bring our knowledge and experience to bear for prospective funders, developers, fleet operators, supply chain partners and end users to progress investment.
Next in this series of articles will be a look at infrastructure for EVs.

---