In G&T's Mass Timber Office series the latest panel 'Fire, Testing and Building Control' examined the impact of fire both pre and post construction and discussed the work currently being carried out by industry stakeholders on the behaviour of mass timber in the event of a fire.
The forum covered widespread industry misconceptions of fire and timber, how you should design when building with mass timber and the guidance and codes currently being developed for working with these products.
The panel of experts included Sam Liptrott, Director at OFR, Judith Schulz, Director at Arup, Mark Pudsack, Assistant District Surveyor for City of London & Building Control and Prof Jose Torero, Professor Civil Engineering & Head of the Department of Civil, Environmental and Geomatic Engineering at University College London.
The group spoke about the importance of design when using mass timber products and how a few small changes could help to mitigate the risk of fire during construction. The forum audience were asked which elements of the design would be affected by the inclusion of mass timber and as shown in the graph above, although many answers were given the true answer from the panel was that all elements of a development can be impacted by the inclusion of mass timber which makes the design phase of a mass timber development extremely important.
The panel also responded to questions raised during the previous forum on insurance and how the industry can work together, sharing knowledge to mitigate risk and reduce insurance premiums for mass timber developments.
In a second live poll the audience were asked how urgently they believed a dedicated standard was needed to enable mass timber to become widely adopted across the industry and as shown in the graph below 86% was needed very urgently.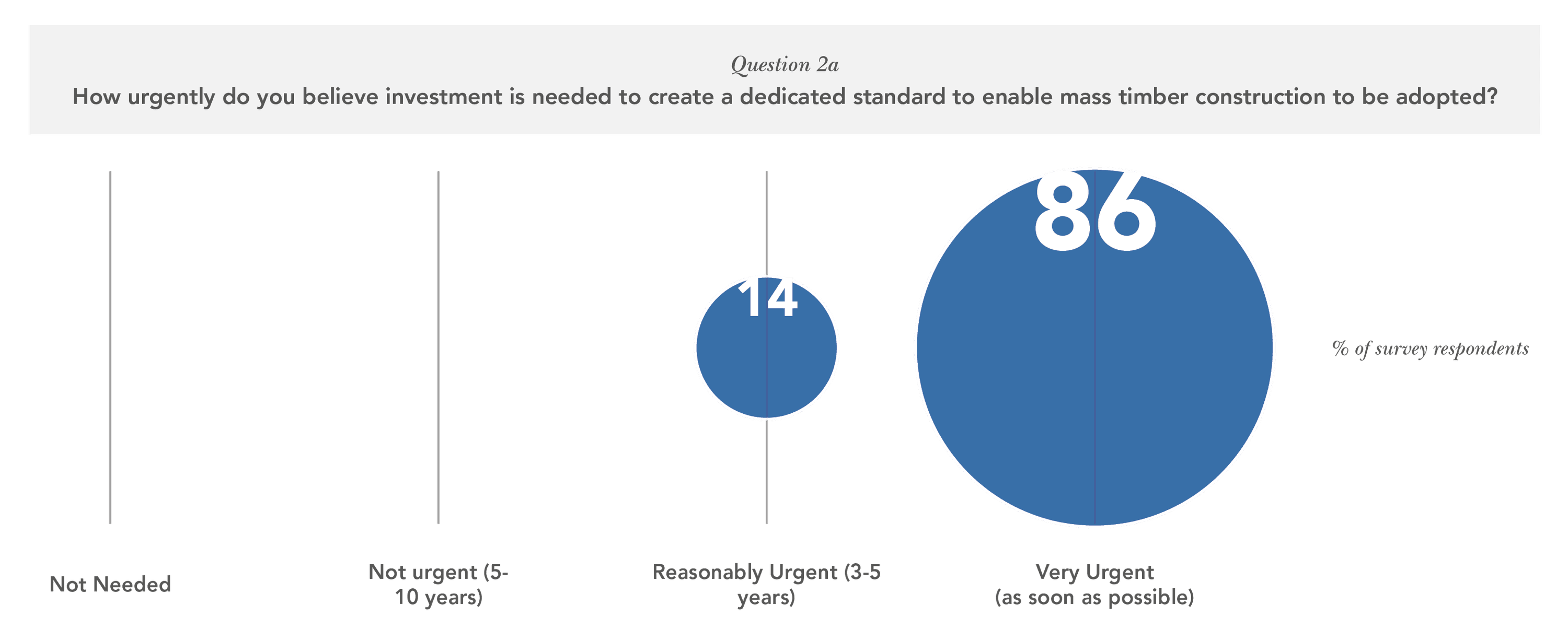 The group agreed that there is much that can be learnt from other countries and that we should look to examples from the Netherlands and the US for inspiration on how to incorporate greater use of mass timber within our developments. There was also an appreciation from the panel of differing approaches to risk and suggestions for how we could take the principles and processes adopted by these regions and apply them to our own UK standards and guidance.

G&T launched the Mass Timber Office forum to bring together experts from across the industry to discuss and debate the barriers of using mass timber in office construction. Hosted by partners Matt Holman and Oliver Booth, these forums focus on hot topics such as Insurance, Fire and Sustainability, to help share knowledge and information that can be referred to when considering mass timber for commercial office projects.

---
For more information about the Mass Timber Office Forum or for access to the full report from the Fire, Testing and Building Control panel please contact the team at masstimber@gardiner.com