G&T has launched a series of webinars bringing together experts from across the industry to discuss and debate the barriers of using mass timber in office construction.
Hosted by partner Matt Holman, these forums focus on hot topics such as Insurance, Fire and Sustainability. G&T partner and timber expert Oliver Booth has assembled panels of leading experts in their respective disciplines to help share knowledge and information that can be referred to when considering mass timber for commercial office projects.
The first of the sessions was on the subject of insurance. In the introductory forum to the series the audience voted they believed insurance to be the number one barrier to market for mass timber office buildings. The use of mass timber across the industry is increasing, generating a wider debate in the insurance industry on the assessment of timber buildings to evaluate the insurance premium requirements against the differing risks to the concrete and steel structural frames.
However, there's no denying that there is a risk when it comes to fire and the assumption among insurers is that once the material is compromised, a lot of the building will be damaged and potentially require significant repairs.
"It's about early contractor involvement, choosing your contractors wisely and making sure they've got the relevant experience of working with mass timber"
There are many risk factors insurers have to consider when underwriting a mass timber construction. Whilst some of these risks are similar to other types of construction risk, others stem from the lack of technical knowledge when using timber as a building material. They don't fit easily into long-established construction classes and comparatively little statistical data exists to help insurers when underwriting mass timber buildings.
"To reduce the impact that insurance can have on the viability of mass timber construction in the commercial sector we need to Quantify, Educate and Differentiate."
During the panel the audience were asked a series of poll questions on their view of acquiring insurance on mass timber office buildings. Below are outcomes from two of the questions posed: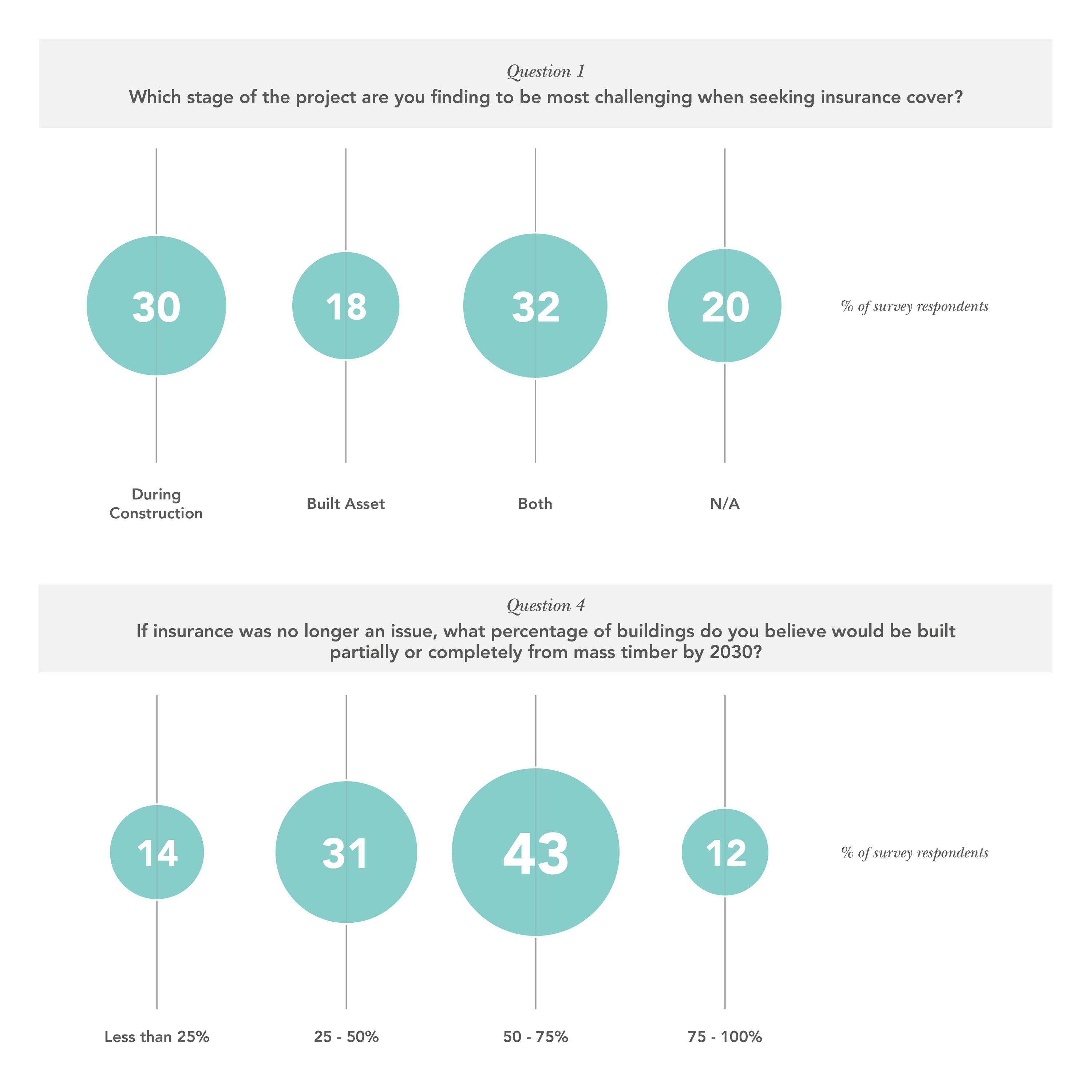 The session discussed and debated these topics amongst many others including the risks associated when building with mass timber and the insurance industry's stance on these risks, the price implications of securing insurance for mass timber office buildings and how structural decisions can affect the insurance options in mass timber office construction.
---
To read the outcomes of these discussions and find out more about using mass timber in your project - access the full report now by contacting:
Matt Holman, G&T Partner - m.holman@gardiner.com
Oliver Booth, G&T Partner - o.booth@gardiner.com