The COVID-19 pandemic has prompted many to rethink their physical office space. In planning a logistically-difficult return to the office, organisations appear to be asking fundamental questions about the future design and purpose of the post-pandemic office.
Whilst there are still many unknowns, the current pandemic has fuelled a seismic shift that will alter our perceptions of how and why we use offices and workspaces for years to come.
A recent survey[1] conducted by Gartner revealed that 74% of the 317 CFO's and finance leaders surveyed intend to shift at least 5% of their previously on-site employees to permanently remote positions post COVID-19. A subsequent survey[2] by Gartner found that 41% of employees are likely to work remotely at least some of the time post-pandemic – up from 30% prior to the pandemic. The initial data indicates that there will clearly be a lasting impact on working patterns and behaviours as remote working becomes more viable for many roles.
COVID-19 is highly unlikely to be the death knell of the workplace. Working is inherently social and whilst emerging technologies have allowed us to effectively collaborate during the lockdown, they have not replaced the need to be together. However, COVID-19 may have accelerated a change in the function of the workplace. Some imagine the office of the future being a smaller, collaborative space used primarily for meetings. Others have suggested the concept of a '3rd office' – not a home or a city HQ but rather a regional hub. Either way, office densities and desk capacity are likely to change in some sectors as developers instead reorient their properties around organisational goals.
There are no shortage of theories regarding how the workplace might look post COVID-19, but no one knows exactly what the office of the future will look like. However, there are some indications of what might be coming.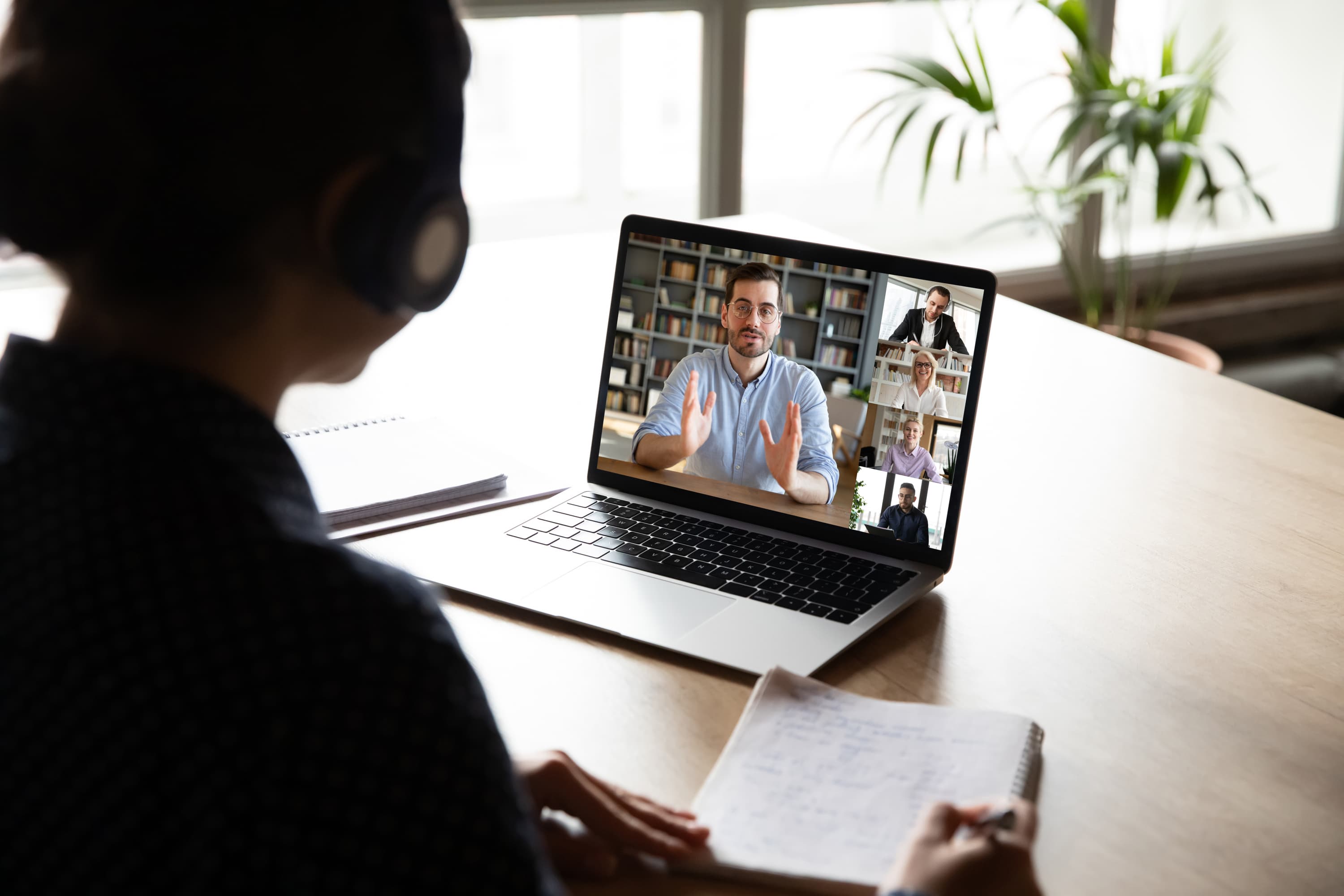 ---
The way we work is changing
Prior to COVID-19, workplaces were largely designed to support high levels of human interaction and encourage face-to-face encounters. The shared open-plan, high-density spaces that tend to dominate office design globally were intended to bring large groups of people together in order to foster dynamic energy and collaboration. Prime offices are typically mid to high-rise, located in city centres and are marked with lots of communal and social spaces to encourage people to physically come together. Up until this point, offices have largely been designed to break down barriers between teams and individuals.
Cue COVID-19 and many of these office attributes and trends will now be questioned as companies attempt to limit unsafe physical interactions and mitigate the spread of disease. Granted, some of these attributes might return in the future, but flexible and adaptable office designs will almost certainly have a broad and enduring appeal. Agile workspace design will enable occupants to continue to operate amid unexpected health risks by providing them with the space they need to maintain physical distancing.
Social distancing could also hasten the adoption of smart office technologies to help manage people flow and space occupancy. It could also accelerate pre-existing trends such as the growing use of "contactless" technologies throughout the office environment.
Prior to COVID-19, some key workplace trends had been developing. These include:
More dispersed working with greater flexibility over when and where to work
Better enabling technology to allow home/agile working
Greater focus and awareness on mental health and wellbeing in the workplace
Workplaces becoming more green, energy efficient and sustainable
Office design adopting a circular economy model (ie reuse of materials at the end of a building's life)
Greater variety of task-specific spaces providing staff with choice and autonomy, eg quiet areas, informal collaborative areas
Increasing prevalence of sensors in fixtures, fittings and equipment to record building operation and performance
Headline office occupational densities have increased (typically 8m² per person) and desk sharing has become more common
Blurring of the boundaries between work and home/leisure space with offices being designed to provide less of an institutional or corporate feel and to keep the workforce in the building longer
Whether COVID-19 will accelerate some of these trends and force industries to reset their workplace expectations remains to be seen. However, COVID-19 has prompted a global flexible working pilot and the workplace is unlikely to stay as it is currently, nor go back to exactly how it was. The pandemic has taught us that spontaneous human interaction cannot completely be replaced by technology. People are likely to be driven back to the office by a desire for face-to-face interaction, learning and collaboration between colleagues and teams. High-performing businesses rely heavily on good levels of collaboration to create new opportunities and solve big problems.
---
Office design after COVID-19
Beyond the introduction of new employee policies, protocols and enhanced sanitation measures, the physical design of the workplace is likely to place a greater emphasis on spatial choreography and the movement of its occupants.
A recent Briefing Note from the British Council for Offices (BCO) provides some thoughts on office design and operation after COVID-19. Chief among these is occupational density. Headline occupational density may reverse its recent trend towards more densely packed offices and 'hot-desking' may become a thing of the past, or at least reviewed to minimise desk-sharing ratios. Indeed, we have seen recent evidence in the market of companies whose business models were transitioning from traditional to flexible workspace that have subsequently decided to shelve their development plans around shared spaces.
Many user experience aspects of office buildings could be adapted to help occupants minimise contact with potentially contaminated surfaces. For example, introducing touchless technology on doors, lifts, toilets, kitchen areas and at reception areas. Mechanical ventilation could be run outside normal office hours; natural ventilation could be more actively used (even at the expense of thermal comfort), and humidity control could be introduced as part of the base building provision so that relative humidity levels can measured and managed.
Incorporating smart solutions into office buildings was already on the rise prior to COVID-19. We are now more likely to see greater use of solutions that monitor space to track occupancy, provide location-based reminders to utilise sanitary facilities and even allow occupiers to call lifts from their phones. Although the health implications of poor air was a key focal point before the pandemic, office occupants are now likely to be hyper aware of airborne pollutants. Alongside greater investment into air filtration systems we are likely to see greater usage of apps and displays showing air quality indicators. Indeed, the World Economic Forum has indicated that China's mass adoption of technologies to address poor air quality is thought to have assisted its office workers to return to their desks more quickly[3].
However, will COVID-19 prompt a deeper-rooted and more permanent change to the layout of offices?
"Beyond rearranging desks, reconfiguring furniture and using screens, panels and barriers to divide up the workplace, offices may need to be reinvented in the longer term."
Adaptability may become as important, if not more important, than density or cost as designs will need to be able to adapt to not only health disruptions, but economic and climatic ones too.
---
Short-term changes to the workplace
In the short-term, changes to the office environment will primarily involve reconfiguration and retrofitting. For example:
Reducing workspace density by increasing spacing between desks or restricting use of desks to provide distancing
Re-orient workstations away from a linear approach
Adding temporary screens/dividers
Increased signage and visual cues to suggest appropriate distance and direct traffic flow
Introducing circulation/one-way routes
Increased availability of wipes and sanitisers
Adjusting existing HVAC systems (eg increased airflow and longer operation times)
Introducing load weighting programmes that can enforce new lift capacities
More regular deep cleans and/or fumigation
---
Long-term changes to the workplace
In the longer-term, certain aspects of the office will be reinvented to improve resilience. For example:
Spaces no longer designed for permanence
Reduced occupancy and more generous space standards
More contact-free solutions (eg voice/gesture activated commands to open doors, raise desks)
Wider corridors and doorways
Increased use of durable, non-porous materials that can be easily cleaned and disinfected without degradation
Increased use of natural light, materials, ventilation and movement (ie fewer lifts)
Sensors to capture a wider range of wellbeing measures
Introduction of office contact tracing technology
Improved video conferencing capabilities so that office and home workers can connect, interact and collaborate seamlessly
Greater range of spaces giving occupants choice and control over their surroundings
Use of shielding at workstations and in meeting rooms to create boundaries between people
Greater use of natural elements (biophilia) to create boundaries, promote wellbeing and improve air quality
Re-engineering of air conditioning to allow for floor/zone distribution to reduce community infection risk
Increased use of High-efficiency Particulate Air (HEPA) air filters and more air changes per hour
Many of these changes will require additional capital and will result in higher operational costs for office buildings. However, despite the current levels of uncertainty, we are seeing the design for some future major re-fits being reassessed to accommodate the office of the future. Where leases are not yet executed and while the design brief is in a period of transition and discovery, some may not be willing to commit significant investment in construction contracts that could be rendered unnecessary or ineffective in the medium to long-term. The experience and expertise of the professional team in advising clients will be critical in developing the most suitable strategy.
Most building owners/occupiers will be content with making small, temporary adjustments or interventions to provide workers with a greater sense of safety in the workplace. The introduction of a vaccine or a relaxation of the current social distancing restrictions could remove the need to completely reinvent many aspects of the office environment.
Some zero or low-cost solutions that offices might introduce could include green cleaning, natural ventilation by opening windows, antimicrobial materials and more planting and greenery. These things can make a big difference to the physical environment.
---
What the future office might look like
Many large companies such as Nationwide Insurance and Morgan Stanley have already said that they intend to reduce their office footprints after realising how effective remote working can be.
Whilst highly dependent on sector and job function, office densities will likely fall and many developers will instead reorient their properties around organisational goals. It will no longer be necessary for workers to commute into cities and perform tasks that can largely be done from somewhere else. Arguably then, desk capacity will be reduced to make way for more meeting areas of collaborative spaces where you can connect with people. As a result, occupiers could be looking for less density through more space.
Michelle Cleverdon, Vice President of Workplace Advisory at Colliers International, has said she foresees something like a clubhouse to foster connections and collaboration, whether for brainstorming with co-workers or making a presentation to clients. Some even anticipate that the office of the future will be used to showcase products and services – more of a sales floor than a workplace.
Contradicting the widespread belief that office space might be on the decline, some sectors, such as tech, perceive there will be an even greater demand and a higher premium placed on office space once the coronavirus pandemic subsides. Former Google CEO Eric Schmidt has said that:
"My guess is we'll have more demand for office space, not less, because people will want social distancing." [4]
Some occupants may also conclude that productivity lags when staff permanently work remotely and may, further down the line, seek to introduce smaller satellite offices. So whilst occupants may need less of their current space, they may ultimately end up requiring more space away from major hubs and cities – a distributed office model.
However, a recent Bisnow survey[5] revealed that many are still split on the future of remote working. Nearly one-third of the 827 Bisnow readers polled said they expect to shrink their company's office footprint post-pandemic, but 45% said the amount of space they currently have will remain unchanged. Only 12% said they were considering expanding the amount of office space their company has.
Regardless of whether office footprints expand or contract, office wellbeing is likely to become far more important to tenants. Health and wellness strategies will be inextricably linked to the new normal of office design and operations. Anxious occupants will ask the question 'will this place make me sick?' so implementing strategies to benefit occupants' mental health and physical wellbeing are likely to be more critical than ever.
Health and wellness facilities in the office environment may move from 'nice to have' to a 'must have'. As such we could see offices taking more design ideas from hospitals and healthcare facilities. In this sense, material choice will become very important as porous surfaces like wood are avoided and are replaced with natural stone or laminates. These more durable materials are not necessarily costlier and so are unlikely to materially increase office refit costs.
Additional refit costs are likely to come from enhanced air filtration systems, additional sinks and hand-washing stations in reception and common areas, more sensors and contact-free solutions on lifts, doors and at desks.
The trade-off for a healthier building could be less privacy. Introducing biometric hardware, AI and analytics, smart security and more advanced building management systems to the work environment may alleviate some of the health-related fears and anxieties of employees returning to the office, but it comes at a cost – in terms of both privacy and financial. In reality, many will likely take a phased approach to introducing such measures, doing only what is strictly necessary to reassure occupants that their building is safe and healthy.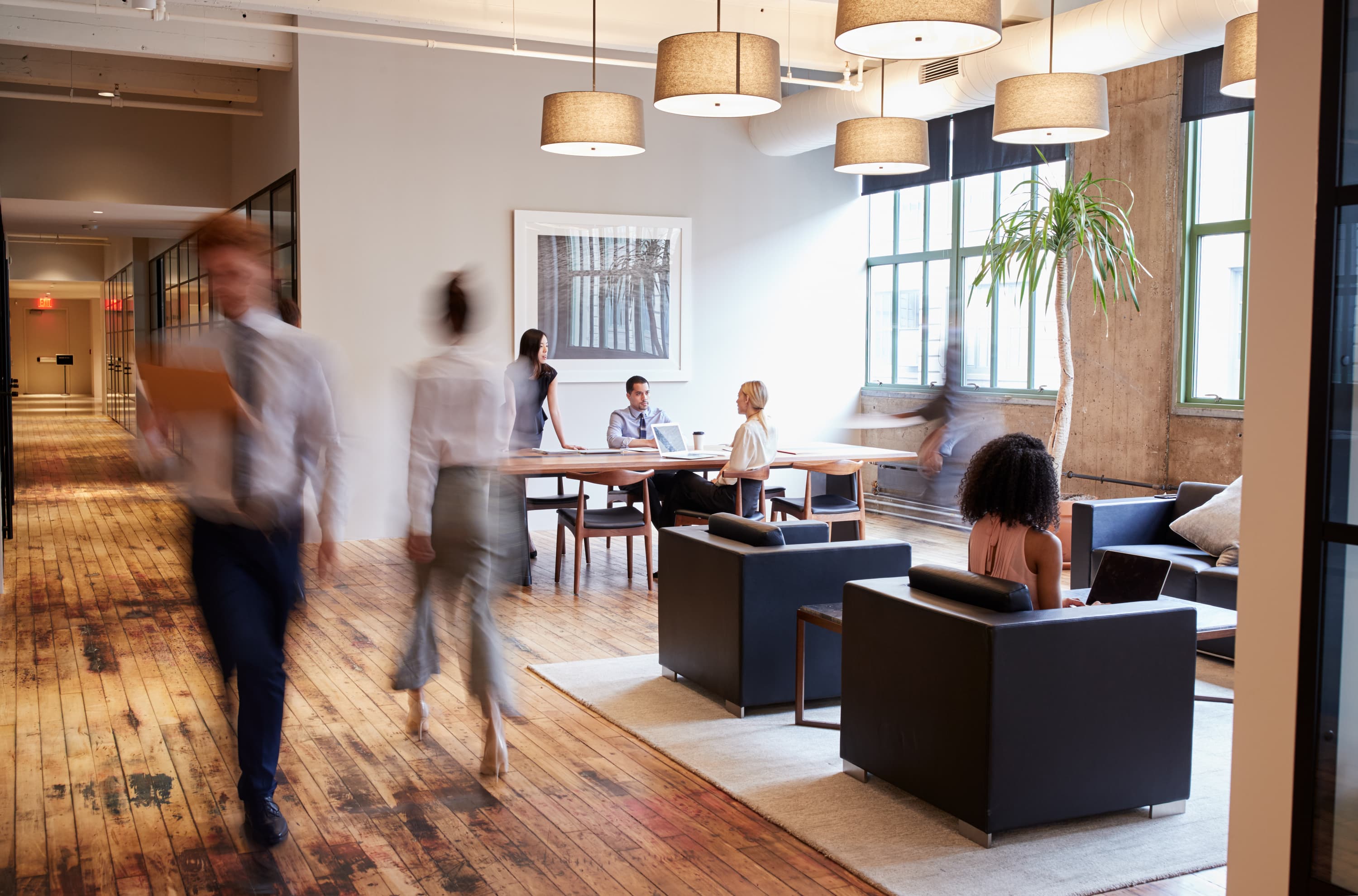 ---
Conclusion
Even after the Government lifts the restrictions on office working, many will continue to work from home. A staggered workforce may become standard, with smaller groups coming in on alternative days, but despite this, many short-term adjustments to the office will be required.
Adapting office design and layout is only one part of the equation. No matter how appealing and safe the office environment is, people have to be able to get there safely. This is an issue for major cities like London and New York where the public transport networks are stretched to capacity. Measures will need to be taken and reassurances provided before many commuters feel confident enough to return to the office. Without these, there is a risk that offices will remain unpopular, unused and unlet.
It remains to be seen whether the experience of living through a pandemic will have a long-lasting impact on the way we work and the design of our offices. The uncertainty brought about by coronavirus could prompt more companies to look for flexible space that can accommodate rapid changes in their needs. Equally, the concept of the '3rd office' or regional hub could become commonplace as the workplace shifts from being a single location to an ecosystem comprising multiple locations.
Ultimately, we work because we enjoy coming together to create new ideas and to solve problems. The office of the future, whatever this might look like, needs to be able to facilitate this. Office working will endure post COVID-19. We just need to prepare for an acceleration of some of the innovations and trends that were already happening pre-pandemic.
Click here for more on our work in the office sector
---
[1] https://www.gartner.com/en/new...
[2] https://www.gartner.com/en/newsroom/press-releases/2020-04-14-gartner-hr-survey-reveals-41--of-employees-likely-to-
[3] https://www.weforum.org/agenda...
[4] https://www.cbsnews.com/news/t...
[5] https://www.bisnow.com/san-fra...