Introduction
Office space has had to adapt and evolve throughout the decades and never more so than following the events of the last two years.
The office product has always been driven by location, maximising density and the prestige that allows businesses to attract the best talent. The pandemic provided employees and business owners the opportunity to see that office space was not fulfilling its full potential as a collaborative and enjoyable working environment, nor addressing criteria that has become so important to occupiers and businesses such as analysing and justifying the development's embodied and operational carbon output to align with ESG aspirations.
G&T's expertise in the central London office market working with both developers, funders and end users has provided key insights to the trends that are becoming drivers for change to the future of the office.
---
Drivers for Change
Sustainability and Net Zero Carbon
As the population becomes aware of the impact our habitat is having on the environment around us, office space must consider its sustainable credibility and the carbon challenge for future developments. New development is responding by embracing a Net Zero Carbon (NZC) approach, developing carbon strategies and following widely used industry codes such as BREAAM and WELL, as well as emerging initiatives from across the globe such as NABERS. The shift in focus from taking a short-term view to a more holistic long-term outlook, is dictated by end users requiring the space they work from to align with their corporate and personal values.
Fabrix's Roots in the Sky "nextgen" HQ office development due to start on site in the coming months, takes this drive for sustainability-led design to a new extreme – salvaging and reusing recycled steel as part of a move towards a circular economy, offering tenants private rooftop terraces and access to London's first urban rooftop forest with over 100 established trees, 10,000 plants and 1000 tonnes of soil allowing them to grow and flourish. The scheme is driving a change in mindset towards urban greening and the positive mental health and wellbeing benefits that come as a result. The development will also have best in class sustainability credentials including BREEAM 'Outstanding' and WELL 'Platinum'.
With the blank canvas of new build development providing an unrestricted starting point, our interest turns to how existing assets and space can respond to such demands to maximise their inherent sustainability. The constraints of an existing building mean that restricted floor to ceiling heights, inefficient floorplates and lack of infrastructure for new technologies create challenges with tenant demand. However, if we alter our approach to how we re-use these existing buildings and find alternative construction methods, the opportunity to incorporate sustainability as a key driver from the outset, such as by celebrating existing materials may improve the viability and measurable sustainability of the asset. Such enhancements are likely to drive greater value and be more marketable as the focus of product shifts to favour sustainable development and occupation.
Amenity
Office space must be more than just a place of work. With companies taking greater consideration of their employee's work/life balance, their office space must provide this balance as well. The last decade of office space design has placed emphasis on the growing number of commuters using alternative methods of transport such as running or cycling to work and further evolution of customer-led amenity offerings in office space is coming to fruition. These evolutions relate to higher quality food and beverage service to meet the greater level of collaboration or dedicated tech spaces to allow those working remotely to contribute effectively. The service level and experience provided when using these spaces has also become more important, occupiers are now looking for an experience more similar to that seen within the hotel and hospitality industry than the traditional workspace offering.
The Fitzrovia, a 122,000 sq ft mixed-use development on Tottenham Court Road, goes beyond the requirements of the modern occupier - integrating world-class amenities with access to both private and communal outdoor terraces, access to which are increasingly important to tenants.


"With a strong pipeline of new offices coming to the market, assets will need to provide their own USP to stand out from the crowd. Amenity offerings such as bespoke gyms, cafés, landscaped external spaces will increase capital costs in the short term but the potential uplift in rental viability will be attractive to all developers."
Healthy Working Environments
Pre pandemic office spaces were increasingly seen as densely populated environments with one person per 6m2 becoming a common occurrence as a driver of value. This was leading to significant operational costs for continuous maintenance and repairs for plant that was in some instances incapable of meeting the demands required. At its worst this was leading to unhealthy working environments causing an impact on occupiers' health and wellbeing.
However, with health and wellbeing in the forefront of consideration in our future office space, use of these spaces has changed. The advancement in technology has helped provide a healthier working environment with enhanced M&E solutions working for, instead of against their occupants. The increased demand for UV filtration and mixed mode ventilation is allowing spaces to monitor the air quality and temperature which then activate natural or mechanical ventilation to specific hot or cold spots improving the air quality and allowing the building to operate more efficiently. Technology is rapidly increasing occupant's understanding of their working environments and bridging the historical knowledge gap.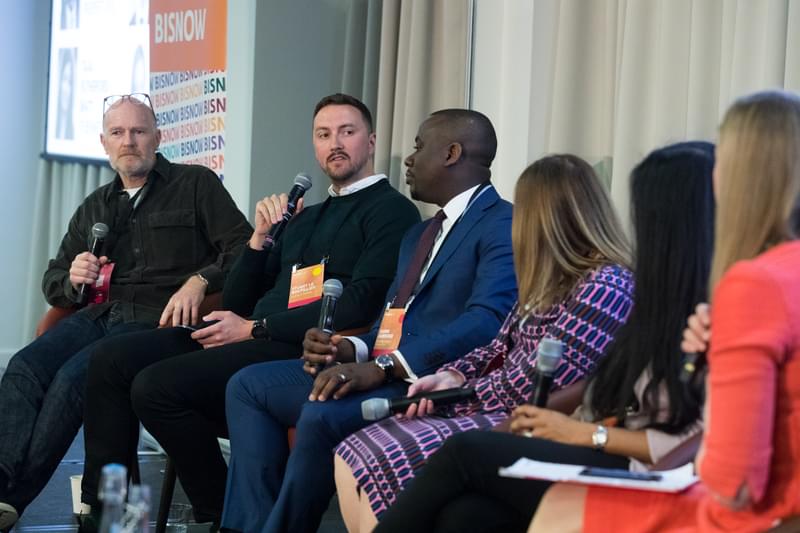 The future of the office space will continue to adapt and align itself to the needs and functions of the end user. With the world still adjusting, these trends will inevitably adapt and change but if there is one thing that we have learnt over the last two years, it's how to adapt quickly and build in flexibility that will enable commercial spaces to thrive in the future.
---
Want to find out more? Check out Bisnow's Future of the Office conference where Stu sat alongside a panel of experts from the commercial sector, discussing the development strategies that are driving office footfall.