With net zero carbon, it is critical to remember that operational carbon emissions (those that come from running the building) are only a part of the story. It is increasingly evident that other elements of the building cycle, particularly embodied or construction carbon, are a significant component of a building's whole life carbon profile. For new buildings seeking to be net zero, reducing embodied carbon is perhaps the biggest challenge.
Embodied carbon has, until recently, been slightly below the radar compared to operational carbon. But this is changing rapidly. Although embodied carbon has largely escaped regulation so far, market expectations have already shifted in favour of low embodied carbon buildings, with new developments aspiring to reach lower targets.
In this piece, we look at embodied carbon, its role in the net zero agenda and how things are likely to play out in the future.
What is embodied carbon?
Embodied carbon, sometimes known as construction carbon, is the term given to the emissions that result from material extraction, production, transportation, and installation (see figure below). Simply speaking, they are the emissions derived from the construction of the building up until it is occupied.
The British Standard BS EN 15978 sets out the lifecycle stages for assessing the environmental performance of buildings. The lifecycle is broken down into four modules A-D. Modules A-C cover the lifecycle of the building (construction, operational and disposal) while module D covers additional benefits that may be realised at end-of-life through recycling and re-use.

In the UK, the operation of buildings (modules B6-B7) accounts for around 30% of emissions, mainly from heating, cooling and electricity use. But for new buildings, the embodied emissions from construction (modules A1-A5) can account for up to 50% of the total carbon impact over the building's lifecycle.
The amount of carbon that is generated even before a building is occupied is a surprise to most people. It helps, however, explain the scrutiny that new construction (and major refurbishment) is facing from all quarters, including regulators, clients, service providers and even prospective occupants.
Planning and regulation
Given the impact of embodied carbon, the focus from governing bodies has been to develop tools to assess and progressively monitor the carbon emissions of the design. For new buildings this is key on the journey to achieving net zero.
For example, The New London Plan 2021 provides a strategy for becoming a zero carbon building by including new embodied carbon aspirational targets and setting requirements for developments. While this plan and guidance is for London, it has effectively set targets that the whole of the UK is adopting.
Under this planning guidance there is now a requirement for an assessment to be carried out on the Whole Life Carbon (WLC) of the proposed development. The Greater London Authority (GLA) have also included a typical benchmark and aspirational benchmarks schedule within The New London Plan to provide targets applicants should be working towards. However, these targets are widely regarded as very difficult to achieve at the present time.
Over the next 2-3 years, the view across the industry is that following this data collection authorities will be able to set a minimum baseline for embodied carbon as well as target ranges for projects which may become conditional for projects to meet. Even though planning applications now require an assessment to be undertaken and submitted as part of the process, there are no formal targets required to be met.
Voluntary tools and the market
Over the last 12-24 months there has been a change in the way developers are approaching their projects, acknowledging the impact their businesses have on carbon emissions and taking it upon themselves to produce strategies and targets for achieving low/net zero carbon buildings by 2030 influencing the way projects are procured and delivered. They are using the GLA benchmarks and targets as set out in the New London Plan and are striving for betterment of these targets.
Other major net zero carbon frameworks – those by UKGBC, LETI and RIBA – have also set out embodied carbon targets through 2030 (note: each framework has its own set of targets and these do not always align). These are sometimes known as "stretch" targets and include proposed limits on embodied carbon, as well as maximum energy usage for the whole building, referred to as energy use intensity (EUI) limits.
These targets are regarded as particularly aggressive and require using different materials (e.g., more timber and low carbon materials) and renewable technologies, such as air source heat pumps. The cost of compliance is not cheap — a UKGBC study found that the "add on" costs for a typical office were 8-17% above baseline costs to reach 2030 levels. Frameworks propose stretch scenarios to represent design changes that may be seen as challenging today but will become more commonplace in the next decade. Indeed, some clients are seeking to achieve stretch targets already within their proposed schemes.
Lowering embodied carbon: some simple steps
It is important to set out the key principles of designing lower carbon buildings during the initial stages of design phase when setting the brief. It is fundamental from the outset that projects are clear on the following strategies:
Providing maximum efficiency in design (e.g., an efficient structural grid solution, efficient floor to wall ratio, minimizing slab to slab heights etc.)
Reducing the quantity of materials required
Retaining and re-using elements from an existing site or building where possible
Sourcing materials with lower carbon properties and reducing the carbon intensive techniques to construct. For example, timber is emerging as a preferred net zero material.
Finding opportunities to utilise alternative construction techniques to reduce carbon such as pre-manufactured frame solutions, utilise permanent formwork etc.
These strategies are being employed in current schemes. For example, at G&T we are working on Roots in the Sky, a project that is using a lightweight hybrid steel and CLT frame, and reusing existing steel from previous buildings. On two other projects where we are appointed, Canada Water and The Forge, teams are using innovating construction techniques and alternative material selection in an attempt to reach embodied carbon emissions that are about half those of typical new buildings.
Moreover, material suppliers are much more conscious of the need to provide both more information about the carbon content of products and to develop new materials to meet the needs of an evolving marketplace. In the same way that the UK grid decarbonised much more quickly than expected, there is also a belief that there will be a similar "decarbonisation" of the construction process as the market begins to reward suppliers and providers who can meet emerging embodied carbon targets.
Impacts on design and cost
Net zero carbon aspirations significantly impact design and consequently cost and programme on a project when compared to current building regulation standards. There are, however, some key areas to reduce costs and advance the project more smoothly:
Set clear design principles from the outset. Early clarity is likely to determine success or failure. Net zero carbon design requires clear briefing, consideration from the beginning and is likely to impact on visual appearance, orientation, form, and operation of the building. Net zero carbon is not a "bolt-on" technical solution.
Early engagement. Engaging with trades and supply chain early is key to providing reliable cost advice and identifying key deliverability issues as well as enabling contractors to provide meaningful technical and buildability input. Early engagement also allows the design team to consider alternative build options and innovative techniques such as pre-fabrication and off-site manufacturing. It is also important to understand lead times on specific materials. If materials are not available, then engaging with the supply chain early enough will leave time for the designers to find alternatives.
Supply volatility and availability. Is there enough recycled material available? Has the cost of low carbon materials increased? These are questions that we are likely to hear as more clients aim to achieve net zero carbon in their buildings and market pressures will likely increase the cost and reduce the availability of certain materials. Flexibility in specification will be an important consideration for designers throughout the early design stages.
Main contractor selection. Increased adoption of innovative design and construction solutions are likely to be required from main contractors as we move further towards net zero carbon in construction. New design principles and different construction processes will need to be learnt, adopted and put into practice which will require significant effort from the main contractors to retrain or re-establish their supply chains to suit the net zero carbon standards. Contractors for net zero carbon schemes should have adequate processes and supply chains in place to track and manage materials and where they come from.
Risk transfer. Clients are likely to favour the transfer of carbon risk to the main contractor and contractors with a track record of environmental capability, a strong supply chain and good process management could be at the top of the list. Off-site manufacture and pre-fabrication capability, whether in house or via their supply chain will also put contractors in good stead when time on site can be reduced and material wastage can be minimised.
The Future of Embodied Carbon
France has already incorporated embodied carbon in its regulation – by 2031, new buildings will have to reduce embodied carbon by more than 50% over existing levels. In the UK, there is a proposal known as "Part Z" that seeks to make embodied carbon a part of building regulations. There is every expectation that regulation will cover embodied carbon – the issue is simply too big for Government to ignore.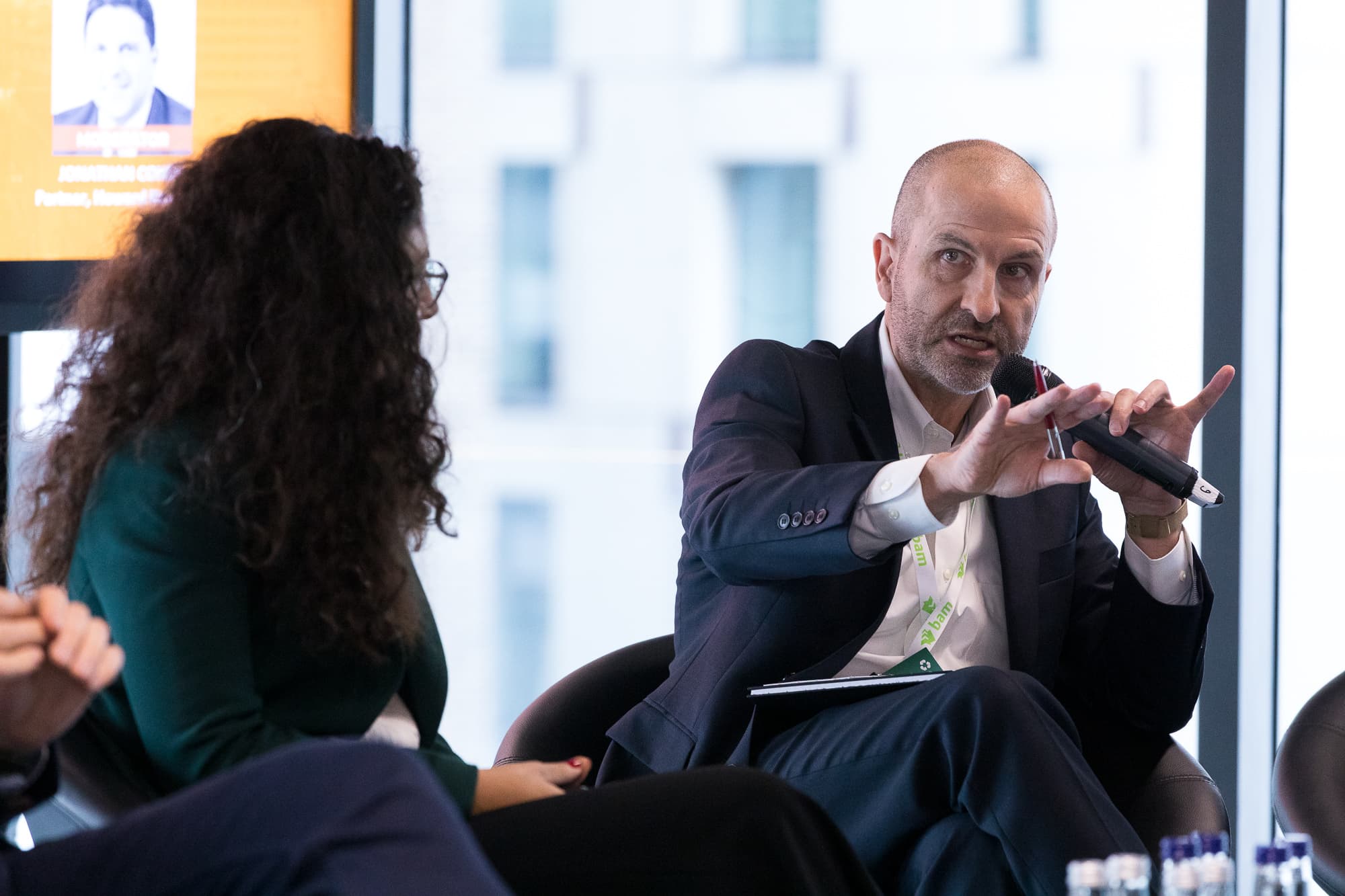 The debate about new construction and its carbon impacts is already playing out in planning departments, where in some cases new buildings are being further questioned and/or paused. What is clearly driving the agenda is the perception that new buildings (in a country with a decarbonised grid) are inherently more carbon intensive than something that already exists.
The challenge for new developments is to show that they are better from a carbon perspective than what is currently onsite. For embodied carbon, this is a high hurdle, although not insurmountable – as demonstrating greater operating efficiencies, building for long life and/or circular buildings, limiting the need for refurb, using low carbon design/materials would all be good strategies.
It is also important to remember that we are at one point in time and things can change, often quickly. Few expected the UK grid to become decarbonised as rapidly as it was – the same could easily happen for materials and construction if the demand is there, which it appears to be.
A more interesting question that is beginning to emerge – and will only be answered over time – is whether the market will begin to reward low embodied carbon buildings and "avoid" or discount more traditional types of buildings. Developers are focused on delivering low embodied carbon buildings in the absence of regulation, with the clear belief that such buildings are more attractive, particularly to corporate clients.
Funders and investors are also beginning to take note of the risks of high embodied carbon buildings. While occupiers with net zero carbon commitments of their own are focused on operational carbon, there are indications that the "optics" of occupying higher embodied carbon buildings may not be optimal for corporates stressing ESG commitments.
However embodied carbon plays out, it is certainly not going away. It will remain a key question behind any new development (or large-scale refurbishment). The market appears to be out in front of regulation, but regulation cannot be far behind, nor will the development of materials and processes that can meet the needs of low embodied buildings. The net zero carbon momentum has moved from the middle of the building cycle (operations) to the left (new construction) and will, in time, shift back through the middle to the right (end of life).
But for now, and the near future, driving down embodied carbon emissions will be a key consideration not only for new sustainable buildings, but for any new building at all.