Retail is changing. Hastened by COVID-19, the high street is undergoing one of the largest evolutions it has seen for decades and the department store is no exception. Empty retail space is accelerating at a rapid rate. A recent report from Savills suggested that retail in the UK is over spaced by as much as 40%[1], begging the question, what can we do with these underutilised assets?
Oversized store portfolios have been an issue for years. This is largely due to the exponential rise of internet retailing and changing consumer habits, but the ongoing shift from brick-and-mortar to online retailing has been accelerated by Covid-19. Retail has arguably been one of the most impacted sectors as a result of the measures taken in response to the pandemic. This article looks at the opportunities this presents for repurposing retail space and some innovative ideas for how this can be achieved successfully.
Introduction
The Centre for Economic and Business Research recently noted that working from home has resulted in a £2.3 billion loss of retail spend across central London alone. Granted, some of this will have been redirected to local high streets and suburban areas in outer London regions, but the net impact has been severe. According to the Centre for Retail Research (CRR), 13,867 shops permanently closed between January and September 2020 - a 24.8% rise on the same period last year. Non-food retailers lost around £9bn in sales during this period, prompting the CRR to predict that as many as one in 10 store sites may never sell goods again[2].
Against this backdrop, more than a third of 400 polled property executives said that they are changing how their retail space is being used. A further 57% said that they are considering changes[3].
"There is no alternative to repurposing… as much as 10 per cent of retail floor space might need to be repurposed in the short to medium-term but could be much higher in major cities eventually."
Repurposing is expected to be particularly prevalent in UK department stores. Previously one of the main attractions of UK high streets and shopping centres, department stores are being closed down at an unprecedented rate. Traditional department stores have been slowly losing their appeal for years, leaving owners and asset managers with the possibility of a sizeable bank of empty space. Although many of these spaces are not easy to repurpose, potential alternative uses are being explored.
This presents an opportunity for landlords and retail owners to give people what they want and value today. These spaces can become an anchor and driver of footfall and profit once again if they can fulfil current consumer needs. G&T recently hosted a webinar called 'The Next Turn of the Wheel: Bringing Empty Department Stores Back to Life'. In it, an expert panel discussed how we can repurpose department stores for the future so that they continue to play an important social and economic role in their areas.
---
The Retail Context
Rob Webber, Partner at G&T, provided an insightful overview of the UK retail market. According to the CRR, since 2007 between 25 and 54 UK retailers have failed each year[4]. So far, 51 retailers have gone into administration this year and nearly 14,000 shops closed permanently between January and September 2020[5]. Evidently, brick and mortar retailers have been hit hard in 2020 and the number of failed UK retailers is on course to surpass the previous peak of 54 during the height of the 2007-2009 recession.
According to Altus Group, there is currently 125,171,104m² of occupied, vacant and 'to let' retail floor space in England and Wales[6]. Although the figures given for the amount of oversupply of retail space varies between 25-70%, at best, this means that England and Wales have more than 31,000,000m² of surplus retail space.
A recent survey from researcher Springboard found that around 10.8% (more than one-in-ten) of British shops now stand empty[7]. Pre-pandemic, vacancy rates were 9.8%, so the coronavirus crisis has had a significant impact on closures. Many department store operators have had to close stores in order to streamline their portfolio and some of their largest stores have now become vacant.
Given the evolution in retail trends that we're seeing, the retail environment is in need of some changes. Simply put, we have too much retail space and we need to start looking at alternative uses and how this space might be repurposed. John Lewis, for example, has started to look at some of the potential opportunities to repurpose some of their stock. The partnership has been given the go-ahead to reduce the space in their prominent Oxford Street store by half and turning it into offices.
Rob Webber suggested that we are likely to face three key challenges when it comes to repurposing superfluous retail space:
From a commercial perspective, how can we drive income and make these developments viable for both landlord and tenant in the long-term?
How do we determine the best usage for empty retail space? Each premise will have a different set-up and location and will need to be repurposed on a case-by-case basis accordingly.
How can we go beyond the existing constraints of the buildings and make these spaces adaptable and flexible to evolving uses?
Despite some challenges, repurposing retail space also presents various opportunities. The Government is changing the planning application process to make repurposing more seamless and risk-free. Under the new rules, a building currently being used for retail would be able to be permanently used for other purposes without requiring a planning application and local authority approval. This will provide a good incentive for retail space owners to consider alternative uses such as residential housing or office space.
Repurposing retail spaces also provides a unique opportunity to modernise existing buildings. New smart technologies can be utilised to generate and capture data from these new spaces. This data can help us better understand patterns of consumer behaviour and provide a greater insight into how these spaces can be best utilised in the longer term.
"It can be a bit doom and gloom thinking about constraints and the reduction in retail space requirements in the UK. The really exciting part is what's in front of us. We can change the shape of these retail environments to make them more relevant."
Another opportunity lies in using repurposed retail space to attract different types of visitors. Incorporating entertainment offerings such as competitive gaming and leisure hubs, fitness and wellbeing centres, dining experiences and food halls as well as space to socialise are being considered. The growth in popularity of these trends and behaviours would support alternative uses of space. Many of these alternative uses could generate meaningful social value and provide a positive impact on community wellbeing. Giving these buildings a new purpose by responding to local business and community needs is also likely to drive footfall into these areas and provide a wider economic benefits.
---
How is retail space being repurposed?
There isn't a trend to repurpose retail space into a particular single use class according to Ed Shield, Partner at G&T. He said that in addition to commercial, hotel and leisure uses, we also have residential (eg Build to Rent) conversions happening in out-of-town and retail park environments. The decision regarding use type will largely depend on the physical constraints of the building as well as its location. There is no one-size-fits-all solution for empty department stores.
Department stores have historically played such an important role in the high street. Given their rise to prominence in the early 20th century, Ed Shield noted that there are some excellent architectural and iconic buildings and it's important that they can be modernised so that they can continue to play a role in bringing people together to socialise, work, shop or eat and drink in a post-COVID world. Ed continued, saying that the most successful repurposing schemes will be those that have curated and thought about a complementary mix of uses that help to increase footfall and reenergise the spaces.
In terms of what we might see more of in the future, Ed pointed to a trend that started off in the US but has become more prevalent in the UK – the conversion of department stores into co-working environments. G&T is working with various operators that are actively seeking partnerships with landlords to convert defunct department and retail spaces into flexible workplaces. This is a trend that many are monitoring closely.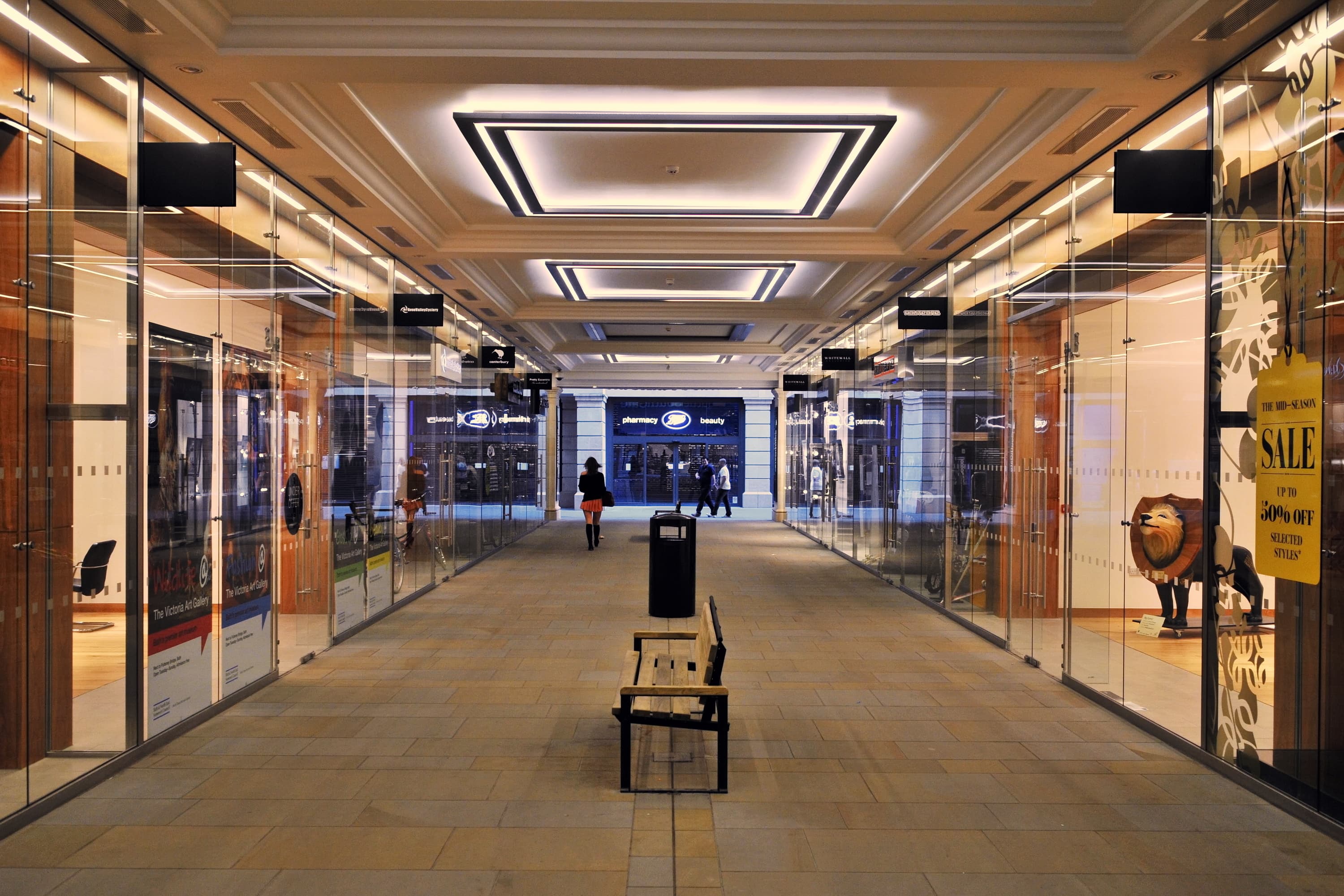 Julie Pears from Ellandi, a company at the forefront of investment in and the strategic management of regional retail-led assets, added that repurposing retail space is actually something that has been relevant for the past 4-5 years or so. She said that ultimately we have to ask ourselves why we have fallen out of love with department stores. If we can answer this then we can then start to think about how these spaces can repurposed.
Julie referred to a failed department store within the Marlands shopping centre in Southampton where an incremental approach was taken. Firstly, the ground floor was converted to individual retail units. The first floor then became a world buffet that linked into the first floor of the shopping centre as data-led insights indicated that people were leaving the area when they wanted to eat out. Finally the upper levels were fitted out for a co-working space that is currently operated by Barclays Eagle Labs. Retaining the ground floor for retail often makes sense as it encourages footfall, enhances the streetscape and adds a sense of place. This helps create a buzz and atmosphere that may help attract residential or office tenants.
Julie said that statistics indicate that there ar far too many department stores in the UK. There are 3.6 department stores per million people in the UK whereas in Europe there are just 1.8 department stores per million people. The issue, therefore, is not a new one. Plenty of thought has already gone into how to repurpose these spaces. Julie agreed that, fundamentally, we are going to have to repurpose these spaces to uses that really drive footfall and replace the department store as the key anchor. She added that anchor uses don't necessarily have to be retail based. Repurposing these spaces to include
employment, maker space, civic and community facilities, such as health centres could be viable uses because in these central locations they are much more sustainable for people to travel to.
"We are in an emerging market in many respects...it's an exciting time to think about our town centres and what needs to be in them to help make them more relevant for their local population."

---
Repurposing: who decides?
In the past, repurposing space has been tenant-led. Now, alternative uses are increasingly being led by data as people don't often know what they need or want. Julie Pears said at Ellandi we look at the demographics of the area, what is happening over a 5-10 year time horizon in terms of development and also shopping behaviours and working patterns (which has become even more important recently). Based on this, we can understand what uses would be most appropriate to ensure that a town centre thrives.
---
The UK and Europe compared
Josip Kardun from Meyer Bergman, a private real estate investment management firm, explained that department stores in Europe have not really been key anchors in shopping centres for the past 30 years, so the development here has been faster than in the UK.
He referred to the trend of 'urban mixed-use' where the retail element generally remains on ground floor and basement levels, connected to public transportation hubs. On the upper levels you would typically find more office and residential space, but also a lot of co-living and co-working space too. This is a trend that started two-three years ago and is accelerating because vertical retail is not working as well as it has done in the past. Retail works best on ground level and Josip noted that the upper levels are increasingly being given up by retailers.
The pandemic has played into this too, as more online retail ultimately means that less upper floor space is needed. As a result, cities are becoming more receptive towards repurposing its retail space and updating their planning codes to facilitate this. He said that in Germany and indeed elsewhere, he expects a core of department stores will remain, but acknowledged that most big department stores will ultimately be repurposed for mixed usages.
---
Grasping the opportunities
Brandon Stephens from Anthem said that as a company Anthem is looking to solve a problem for the consumer, providing the flexible space that allows people to spend all day in one location. He continued, saying that we appear to be moving away from working in traditional offices towards working more in places like coffee shops, hotel lobbies and clubs. Everything is moving in this direction and is being driven by increasing numbers of independent, mobile and freelance workers. These people are really just looking for a place where they can 'hang out' without having to pay for office space. However, they also want access to other services such as wellbeing, physical fitness facilities, food and drink, events and entertainment.
"We took a step back and asked how do we provide for each of these particular services with a consumer-leading type of experience. We put together these services to provide a department store of experiences."
Repurposing needs to be consumer-led and Brandon Stephens said that we effectively need to put together a department store of consumer-led experiences. Department stores are perfectly suited to what Anthem wants to do - provide a frictionless umbrella that helps to create a cohesive experience with cross and upselling opportunities. People are able to come in and dip into different services that can be cross-pollinated with other services that they may not typically use.
The physical environments that tend to works best for this kind of concept typically offer high ceilings and a large internal volume. Having big open atriums that allow you to look up and down the venue and see the next stage of your journey is very important. Interesting architectural features are also appealing but he cautioned that brick buildings tend to have pillars and this can have an impact on event space. Ideally, you want to remove walls and doors to encourage consumers to wonder from one experience to the next in a frictionless way. Walls and doors tend to make us feel like we're moving from one operator to another, which is not what this model is about according to Brandon.
Buildings that can be repurposed to incorporate rooftop areas with restaurants and bars are also favoured because they can be incredibly lucrative. For example, in London rooftop spaces offer around £1,100/sq ft of sales density on average, compared to an average workspace that provides an average sales density of £160/sq ft. Brandon continued, saying that department stores also tend to offer vertical circulation from pre-existing escalators and lifts which often means that minimal repurposing is required by the landlord.
The catchment area is also important when deciding which department stores to repurpose. Anthem is currently targeting larger city-centre locations such as London, Manchester and Birmingham as these spaces need to be able to accommodate thousands of people going through them every day. To do that you need to be able to draw from a strong catchment area. Getting people into the venue to reach critical mass is key because the model doesn't rely on a membership fee. However, if the model is successful then over time smaller versions could be put into cities like Bristol, Glasgow and Reading.
---
Potential uses for new space
Many new asset classes are now emerging. Ghost kitchens, battery storage units, logistics centres and edge data centres are just a few of these new and cutting-edge asset classes.
Josip Kardun believes that one of the most interesting asset class that will be rolled-out at scale in these spaces will be data centres. In fact, this is a trend that is already happening. However, there will still be a lot of repurposing into office and residential space. He added that there is still a great deal of uncertainty over how office space requirements will play out in the wake of the pandemic.
Within a shopping centre, the anchor store has always been the main attractor in terms of bringing in other retailers and getting them to pay higher rents. Julie Pears added that with the failure of a department store, it's vitally important that we put in uses that drive footfall and position the remainder of the shopping centre well. Whatever use replaces the department store, it has to act as a new anchor that benefits the remaining retail or non-retail space. However, Julie added that if you can't do that, then we go to ground zero and reposition the shopping centre into something completely different.
---
Relationship between landlord and tenant: Are we moving away from the traditional 20 year lease?
Repurposing old retail space may necessitate a new and closer relationship between landlord and tenant. The COVID-19 pandemic has taught us that there needs to be a much closer and more flexible relationship between the two according to Ed Shield. Whether this comes from a partnership arrangement, management agreement or a turnover lease, a flexible approach will be required. Landlords will need to be more open-minded about tenant enhancements as part of the lease transaction to ensure that the old department store is suitable for whatever new use the tenant wishes to bring to the space.
However, Josip Kardun added that while retailers want ever-increasing levels of flexibility, landlords still need certainty. There is only so much flexibility that landlords can give so the possibilities are not unlimited when it comes to repurposing retail space. This has an impact on the type of investor that is willing to invest in redeveloping these spaces. There are very few long-term executional investors interested in investing in this asset class according to Josip. Frequent repurposing and redevelopment means you need to rely heavily on other people's skill sets to generate income which doesn't appeal to long-term investors. Instead, repurposing retail spaces tends to attract a more opportunistic and aggressive type of investor – a less risk-averse investor with a shorter 4-5 year game plan.
---
Planning changes to unlock repurposing
The Town and Country Planning (Use Classes) (Amendment) (England) Regulations 2020 came into force on 1st September 2020. The main driver of these new regulations was the need to enable the repurposing of buildings in high streets and town centres quickly and in response to changing demand. The changes allow buildings to be used flexibly by having a number of uses taking place concurrently or indeed allowing different uses to take place at different times of the day.
Ed Shield said that these regulation changes are only going to be positive for repurposing projects. Fortunately, landlords looking to repurpose retail spaces are already pushing on an open door with local authorities and planners who recognise there is a real need to re-energise these spaces. Providing the use class reflects of the demands of the local area, then the planning conversation should be a relatively straightforward one.
Julie agreed, saying that conversations within planning departments have changed in the last 12 months. Politicians are very precious around their town centres and so they will be challenging their officers to ensure that there is a vibrant town centre. The electorate put a lot of pressure on MPs in this respect so there is an imperative for rejuvenation and the re-imagination of these spaces. She added that repurposing historic buildings, however, can be a little more challenging.
---
Conclusion
Brandon concluded the webinar by giving some advice to asset owners and those who have the ability to fill empty retail space. He said that flexibility is certainly a key but it's really up to operators to court landlords and prove to them that their repurposing models are viable. To do this, all stakeholders need to be open to new concepts. Right now there is a lot of risk aversion from stakeholders that don't want to make mistakes but that fact is that retail space needs to decrease. Requirements will continue to change over time and so adapting and focusing on the consumer is the single most important thing stakeholders can do.
Experiences are, to a certain extent, 'Amazon-proof'. Many experiences can't be done totally digitally and experiences are what will help really drive footfall. Brandon said that he realises the limitations of leisure space. Leisure doesn't create the sales and rent levels that retail has done in the past, but ultimately we need to solve the problem for the consumer by being more consumer-focused. COVID-19 has had a big impact on the high street, department stores and physical retail space generally, but it has prompted forward-thinking retailers to think more creatively about how to best use their space and reengage with customers.
Despite the substantial oversupply of retail space in the UK, there are a number of solutions in the form of mixed-use ecosystems and repurposed retail exemplars. While there is no 'one-size-fits-all' blueprint for redevelopment success, repurposing in a way that enhances both the local market and community is possible. At G&T, we are helping our clients re-purpose their retail space to ensure its long-term viability and sustainable use. We utilise a flexible approach based on the understanding that each redevelopment needs to be needs-led and done in close collaboration with stakeholders across the planning and development sectors.
---
We would like to give a special thanks to all the participants in the webinar for their insightful contributions:
Julie Pears, Ellandi
Brandon Stephens, Anthem
Josip Kardun, Meyer Bergman

Please do get in touch with us to discuss your repurposing project requirements or to find out how we can help you make the most of your space:
Rob Webber, G&T Partner - r.webber@gardiner.com
Ed Shield, G&T Partner - e.shield@gardiner.com