UK economic growth picked up in Q1 2019, rising by 0.5% in the quarter from a sluggish 0.2% in the previous quarter.
The positive growth figures were driven by unprecedented stockpiling as manufacturers delivered orders ahead of the original Brexit deadline in March. Concerns over potential supply disruption drove a surge in imports in the first quarter, widening the UK's trade deficit from £8.9bn to £18.3bn. However, in Q2 2019, it's likely that businesses will run down their stockpiled inventory which will cause some drag on growth.
The strong manufacturing performance offset a slowdown in the services sector, which only grew by 0.3% as companies opted to delay spending. Whilst the construction sector grew by 1% in Q1 2019, ONS data shows that growth contracted in March, falling by -1.9% compared to the previous month as both new work and repair and maintenance declined.
The Consumer Prices Index (CPI) 12-month inflation rate was 1.9% in March 2019, down from 2.1% in December 2018 and below the Bank of England's (BoE) target of 2%. Rising prices for motor fuels and clothing produced the largest upward contributions to change in the rate between February and March 2019.
CONSTRUCTION OUTPUT
The total value of all construction work delivered in Great Britain in February 2019 was put at £13.93bn, which is 0.4% up on the previous month and 3.3% up on February 2018. The monthly growth was driven by a 1.1% rise in All New Work whilst All Repair and Maintenance work slipped back by 1%.

The ONS' seasonally adjusted output figures show that infrastructure and private housing were the strongest performing sectors in February. Both sectors have also performed well over the longer term, particularly infrastructure which saw a 12.6% increase in output in the year to February 2019. However, it was public new housing that saw the highest annual growth in output (14.7%). At the opposite end of the scale, private commercial was the worst performing sector, continuing its downward trend by falling 9.3% in the year to February 2019.
After a disappointing December, output in the first two months of 2019 has been encouraging. Whilst there was a general trend of slowing growth from mid-2018, the most recent figures buck the expected trend and show moderate growth.
However, given the sustained uncertainty surrounding Brexit, G&T expects output to be subdued until further clarity is given. The possibility of an upturn or a 'Brexit bounce' towards the end of 2019 remains which would help output to end the year positively.
REGIONAL BREAKDOWN OF CONSTRUCTION OUTPUT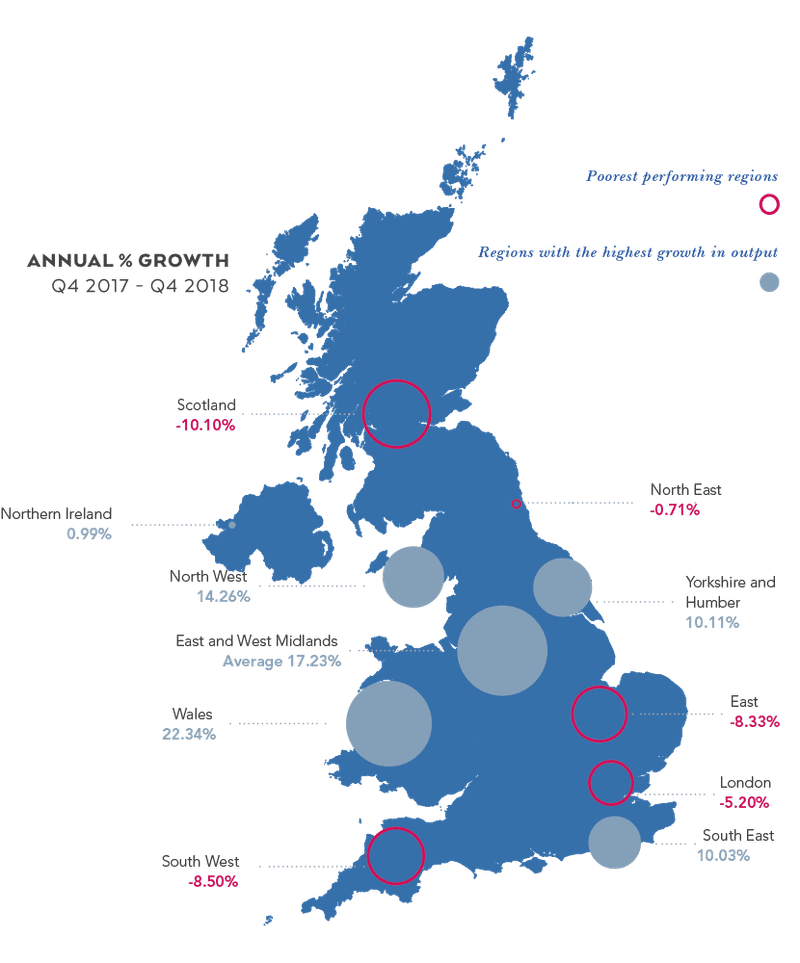 NEW ORDERS
After a strong third quarter, new orders fell by -1.9% to £10.75bn in Q4 2018. New order volumes are still significantly lower than they were prior to the Brexit referendum. With the 10-year quarterly average for new orders coming in at just over £12bn, it's clear to see that new order growth has been adversely affected by the current economic and political climate.
Infrastructure and private new housing were the only sectors to make a positive contribution to new order volumes, rising 2.4% and 3.2% respectively. Public work seemed to suffer the most in Q4 2018, with public new housing falling -11.3% in the quarter.
MARKET CONDITIONS
Even with Brexit looming, many of G&T's clients have expressed that it's "business as usual", with several saying that because of the competitive market it's actually a good time to get work on site. Although down from record levels in 2017, the UK remains one of the world's largest foreign direct investment recipients and this is providing some buoyancy to the market.
Whilst contractors' pipelines remain generally strong there is increasing talk of emerging capacity. More Tier 1 contractors are actively seeking workload to fill their order books for next year. As such tender returns are competitive and are more closely aligned compared to the last few years when there was greater variance between the highest and lowest tender returns.
Enquiries are still being received indicating that work is available, but many of the schemes that do move forward are doing so in stages rather than through a full commitment. Contractors continue to tender selectively, exercising a degree of caution until the political situation becomes clearer, but are still keen to fill their order books. The vast majority of our TPI survey respondents anticipate workload to remain steady at current levels over the next quarter. However, longer term, a greater proportion of respondents expect more projects to come to fruition, increasing workload towards the end of the year.