'As London becomes increasingly expensive to live in, work in and travel around, it is at risk of being hollowed out and losing the vibrancy that makes it such a desirable place to live and work for young people.

Should we be looking to solve the issue of affordability through increased densification of the centre or through decentralisation, encouraging a greater mix of uses in outer London centres – thinking about London as a polycentric city with clusters of activity across the whole capital?'
This question was posed to 12 built environment NextGen individuals who took part in a roundtable debate at The London Real Estate Forum 2018. The debate explored a number of key trends and hot industry topics, delving into how the new ways of living can be incorporated into the ever changing culture of current urban life.
"The truth is we live in a city where we are almost moving towards inhumane conditions that are forced upon us."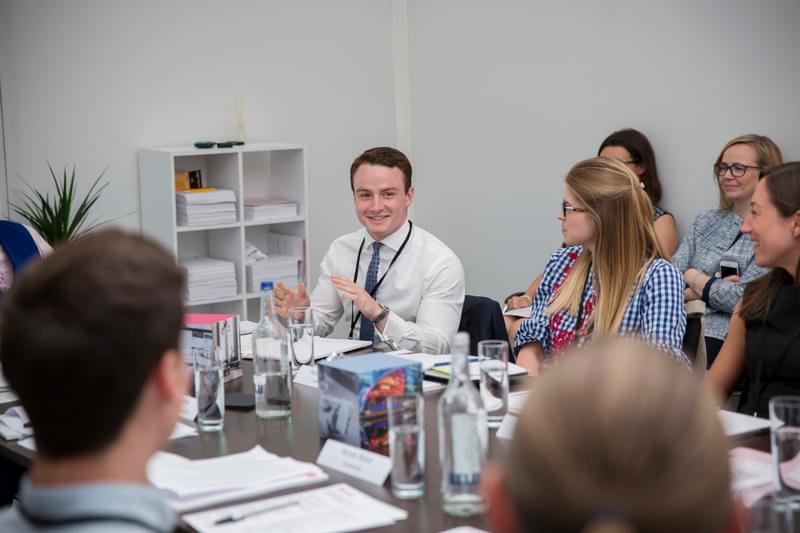 Team captain and on the side of decentralisation, TfL's Liam Hewitt gave an opening statement that set out a clear agenda with facts and statistics to support decentralisation as the only solution to this pressing issue. With three questions posed from the outset Liam described how the extra costs associated with living in the city are becoming increasingly unsustainable and how the more time spent on public transport travelling into the centre is eating into our time spent outside of work.
"Centralisation, whether you like it, loathe it, hate it or just get on with it is something us humans just do."

James Rolton, British Land, countered with an effusive opening statement in favour of densification and centralisation which hinged on a long history of demographic studies that all conclude as human beings we like to live in densely populated areas concentrated around a central point. He suggested it would be far more difficult to change the culture of human behaviour than create an environment that thrived off people's natural instinct to congregate in city centres.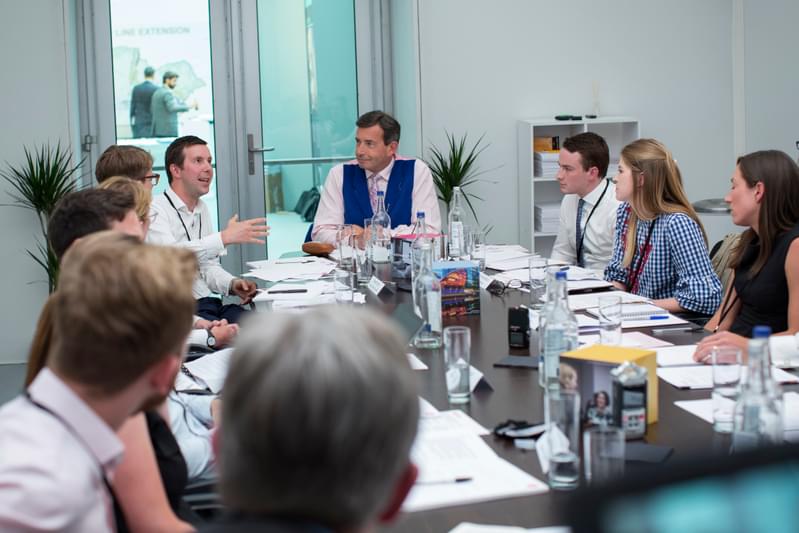 G&T's Kevin Arnold hosted the debate and opened up the discussion to the floor for further comments on the opening statements and asked for a response from both mentors to set the scene.
Sherin Aminossehe, Head of Offices at Lendlease and former Chief Executive Officer at the Government Property Unit, began by reiterating the strong statements issued by Liam in favour of decentralisation, but not to the detriment of the city itself. Sherin noted the concept of developing London as a polycentric place with several viable centres, referencing the economic strength and resilience of countries that have several strong regional hubs.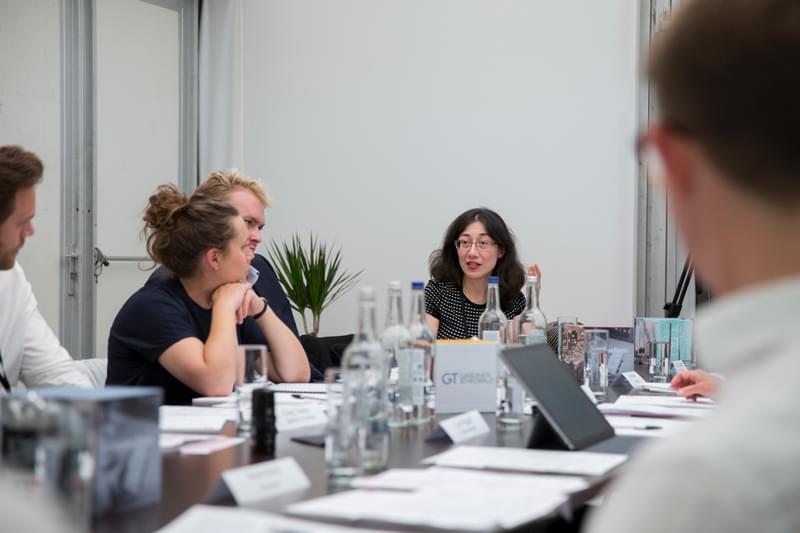 On the other side of the table Todd C. Lundgren, Executive Director at CallisonRTKL, highlighted James' opening arguments for centralisation and brought in his own experiences from living both in the US and in the UK. People are moving back into the centre from the increasing urban sprawl, after feeling as though they are isolated out in the regions. Todd referenced several reasons for those moving back, including increased diversity and better community engagement.
From the outset the definition of the centre was a point of contention for both teams. Not only did they question where the true centre of London lay, but also the breadth of how far the centre of the city spread, not just from Westminster to the West End, but out as far as Canada Water and Stratford.
"You can't have Stratford, it's ours! You can't have White City, it's ours! It's part of the centralised model. If you want Milton Keynes you can have it. That's the decentralised model."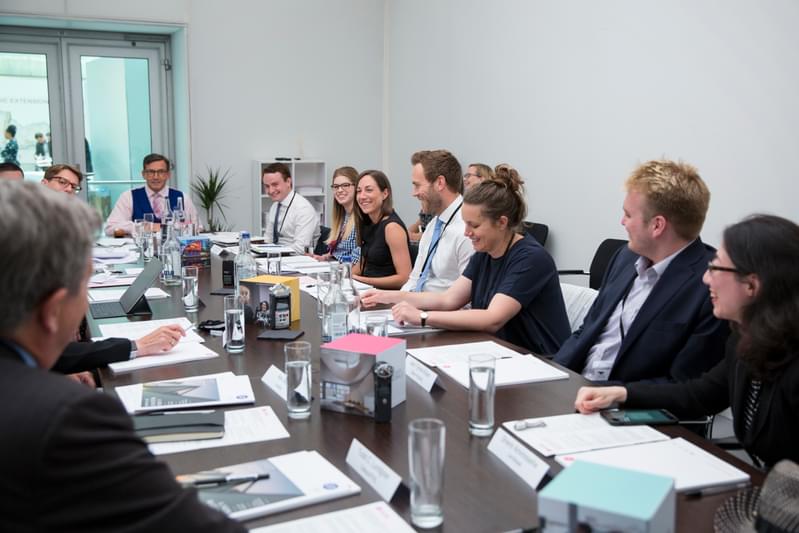 "This idea of urban sprawl or suburbia as being associated with decentralisation is not what we're advocating for at all. It's very specific points of decentralised nodes around public transport which can be easily connected into this network, this polycentric city."
The debate considered how the design of small spaces has evolved over time and an architect's ability to design small spaces successfully now allows for further development into compact solutions and co-living arrangements. The role community living plays in the housing solution was also explored by the centralisation team, focussing on examples such as The Collective and the decreasing average age of a Londoner paving the way for further investment into this style of accommodation and way of living.
"Compact living has demonstrated that you can actually provide affordable living in the inner city. It's also a valid model for zones three and onwards, it doesn't have to be in zones one or two."
There was talk of satellite offices and an increased demand for flexible working pushing this concept closer to fruition. However, concerns were raised about the incentive for big businesses to relocate from their centralised clusters.
"If businesses give their workers the opportunity for flexible working, it means they can downsize in central London, it takes the pressure off the infrastructure network. People can cycle or walk to work and have more flexibility. It's got to be a collaborative effort and the businesses need to buy into that."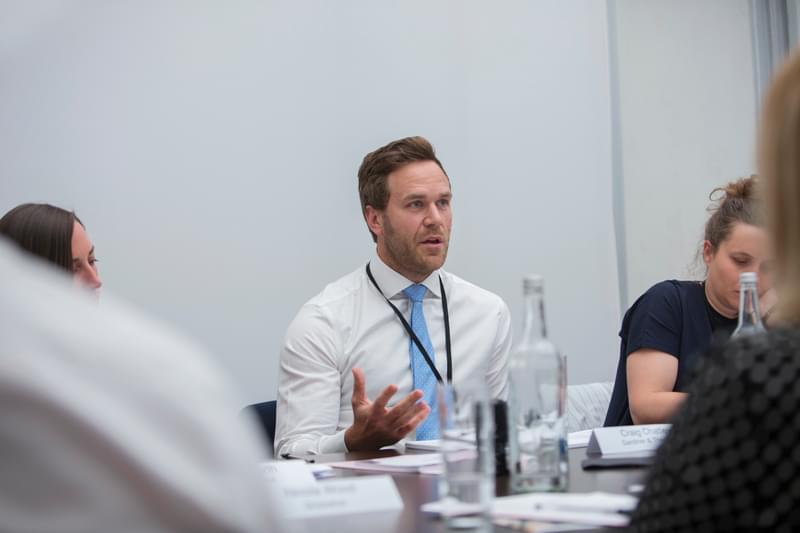 It was concluded that although the concept of satellite offices and interconnected mixed-use hubs in areas such as Tottenham and Harrow was sound, it would take industry wide collaboration across all sectors and levels of the supply chain to achieve such a dream, and do so successfully.
"The perception of and the experience of the urban core since the 1920s has changed. It's no longer seen as the polar opposite to the suburban idyll where you move out to have green space for your children. People are realising you can have that life within the city centre."
After all arguments were made and closing statements delivered, Kevin asked the table at large, in spite of the side they were currently sitting, which solution they would be in favour of. The overwhelming majority came back in favour of decentralisation, issuing a stark warning to the industry that change is coming and it will take collaboration from all sides to ensure London continues to be the polycentric vibrant city we all know and love.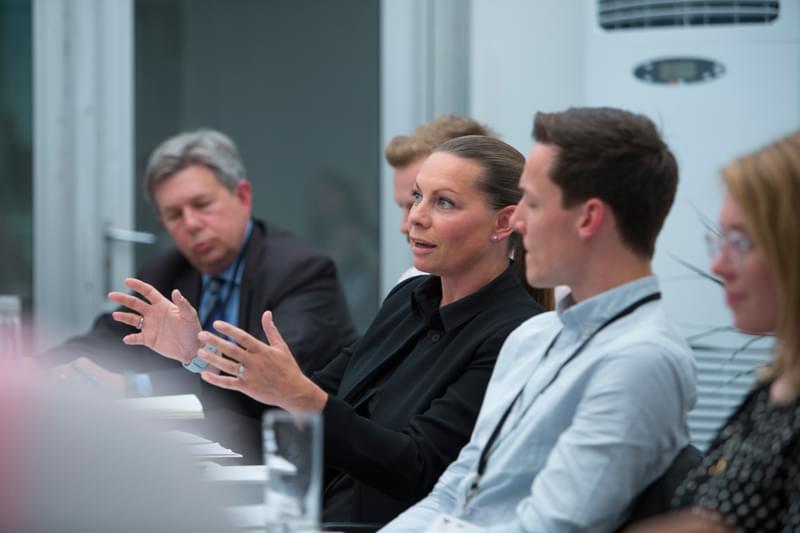 If you want to find out more from the NextGen debate, watch our film.
The full list of those who took part in the roundtable debate is as follows:

Listen to the full podcast by signing up to our mailing list.
Want to find out more about the London Real Estate Forum 2018? Read our new article.